Does Not Need More Cowbell: Stanford Upsets Kansas, Powered By This Band Member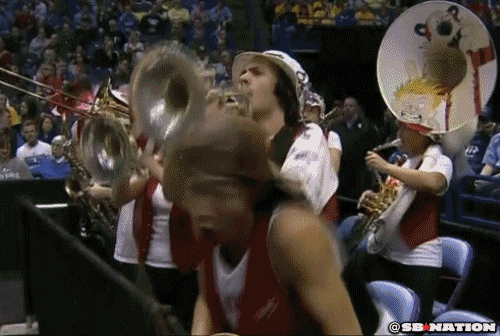 No. 10 Stanford tops No. 2 Kansas, 60-57. Your bracket tight now: Uncle Owen's house on Tattooine after the storm troopers burned it.
So the Cardinal, without hitting a single 3-pointer, without a true point guard, and playing Kansas in Missouri, is on to the Sweet Sixteen. That's the biggest upset in the tourney so far in my opinion. They held Andrew Wiggins to four points (yep), and the Cardinal will now take on Dayton in the next round. A 10 seed vs. an 11, as God intended.
You've never seen anyone go harder at anything like this Stanford guy playing the cowbell http://t.co/4S4MpDWfE9 pic.twitter.com/WzAeIymOpT

— Mentality Mag (@MentalityMag) March 23, 2014
Let's face it, your bracket was trashed long before this. But:
Tournament Challenge bracket wipeout! 82% of brackets has Kansas advancing to Sweet 16. Only 4.1% had Stanford in Sweet 16

— ESPN Stats & Info (@ESPNStatsInfo) March 23, 2014
Congrats to Stanford and the great Johnny Dawkins on the Sweet Sixteen! Never had a better teammate than JD. pic.twitter.com/wdSDKdKJu3

— Jay Bilas (@JayBilas) March 23, 2014
How did this kid get into Stanford over me? pic.twitter.com/BtnjDIDdYj

— Drew Minnis (@ItsLittleBear) March 23, 2014
A lone Stanford fan stormed the court. He was quickly arrested, but that didn't dampen his spirits. Heard him tell the cops it was worth it.

— Kellis Robinett (@KellisRobinett) March 23, 2014
Stanford was selected in just 4.1% of ESPN's Tournament Challenge brackets to advance to Sweet 16. Just 0.4% had Stanford/Dayton

— Matthew Berry (@MatthewBerryTMR) March 23, 2014
Jayhawks loss summed up in one picture: Sad Kansas fan has the sads – http://t.co/zrRhQfy5cZ / pic.twitter.com/yDycTxlykc

— Sporting News (@sportingnews) March 23, 2014