NCAA Football
Ohio State's Braxton Miller Spins His Way Into Our Hearts, The Endzone
Ohio State Buckeyes' quarterback Braxton Miller is vying for the Heismann Trophy this season. This play will only help his cause.
No. 16 Ohio State surprisingly trailed unranked UAB 12-7 near the end of the second quarter. Unranked UAB. Was this going to be a replay of Matt Barkley and USC's misstep against Stanford last week?
Maybe, if not for Braxton Miller.
Watch as Miller put the Blazers in the spin cycle for a positively Madden-esque touchdown run to give Ohio St. the lead. It's the kind of play that is tailor-made for the GIF format.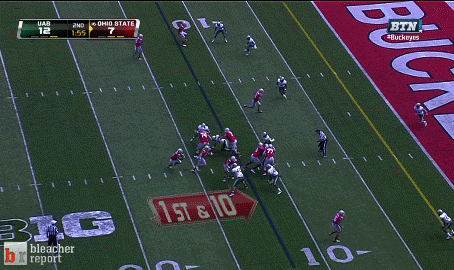 The score put the Buckeyes up 14-12. UAB immediately fumbled two plays later and Ohio St. scored again. So, you know, UAB is pretty much in over their heads at this point.
Ohio St. currently leads UAB 21-12 in the third quarter.