I don't care what anyone says: this is my favorite NFL highlight of the day. Ironically, this is Skuta's return after being on the IR with a foot injury. This may explain his hatred of shoes.
Niners lead Cardinals 17-7 with less than four minutes to go in the third quarter. Meanwhile, New Orleans is leading Tampa Bay 42-17, meaning the Cardinals are cooked, playoff-wise, no matter what they do today.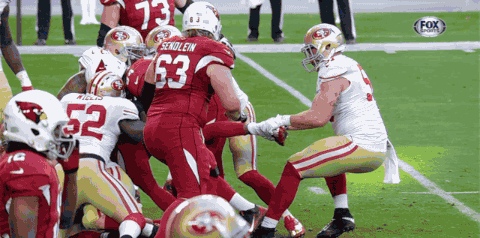 UPDATE: 49ers win 20-17, with winning field goal set up by this pretty incredible catch by Quinton Patton.
#49ers WR Quinton Patton makes a catch over Cardinals CB Antoine Cason to set up the game-winning field goal. #NFL pic.twitter.com/n02ebN0LpZ

— Michael Chow (@photochowder) December 30, 2013