Olympic Sports
Video
The U.S. Women's Hockey Team Bashed Switzerland 9-0, But The Swiss Did Have One Highlight
As expected, the U.S. women's hockey team rolls against any national team not named Canada, posting a 9-0 victory against Switzerland today. They beat Finland 3-1 in the opening game of the preliminary round as well. The U.S. set a record by scoring three goals in 55 seconds during the first period, so while this one technically wasn't over before it began, it was over over within a 55 second span.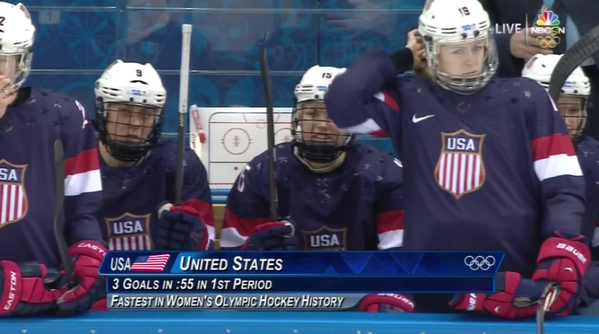 Remember, the U.S. and Canadian teams are so dominant (they've combined to win the last 19 world championships) that the rules were changed this year to automatically put everyone in their group through to the next round. The preliminaries for Group A (U.S., Canada, Switzerland, Finland) only matter for seeding.
As bad as Switzerland was beaten today (and by Canada, 5-0), they did have one highlight to speak of — goalie Florence Schelling did this (via Buzzfeed):
Fitting that she should make a soccer-esque save in a game where the net appeared to be as big as a soccer goal.
The U.S. and Canada play their preliminary game on Wednesday, 4:30 p.m. local time.