Five Underrated Offenses to Target in September
College Football Preview: Five Underrated Offenses to Target in September
September is the best month of the year if you ask me. College football and NFL are brand new (or extremely fresh), and a certain someone has a birthday at the end of the month. As you know by now, college football is my favorite part of the year and it's these early season match ups in September that make it the best. Seeing two out of conference powerhouses face off has me like the first time I saw a Playboy Magazine.
Because I must continue to talk college football even in the month of July, I've decided to get the CFB talk going on Daily Roto. Today I want to bring you five teams you'll be seeing a lot of points from this September. And no, I'm not going to sit here and talk Baylor, Oregon and TCU. I like to challenge myself at least a little bit! Let's start this thing off with a team that outscored Baylor in last season's Cotton Bowl and will be able to score enough to do the same in 2015 if need be.
Michigan State (@WMU, vs Oregon, vs Air Force, vs CMU) – Let me preface this by saying that everyone knows Michigan State has a great run game and a good offense, but not everyone knows they were an elite offense in 2014. The Spartans were seventh in scoring offense (43 points per game), averaged 235.2 yards on the ground and even were top 40 in passing yards per game (36th).
While Michigan State has to replace some key players in the offense (Langford and Lippett), MSU is a factory at the running back position. In the last five seasons, they have produced four 1,200-yard rushers. This season should be more of the same with two likely first rounders on the offensive line: Jack Conklin and Jack Allen. My guess is Madre London is the running back we'll be talking about week in and week out for the Spartans.
The passing game was ranked 36th in passing yards per game last season, but ranked 12th in yards per attempt (8.6). This is obviously because they have another projected first rounder in Connor Cook under center. He could be in line for some great games this upcoming season if a receiver can break out for them. The top two guys coming into the fall are Aaron Burbridge and R.J. Shelton. Full disclosure, I have a thing for receivers whose numbers are in the 10s. Neither will blow you away when you look at them (6'1 and 5'10 respectively), but the play action game will always make these players perform better than they are. Another player to remember as an elite tight end play is Josiah Price. His number doesn't fall in the 10s, but he caught six touchdowns last season.
Arizona State (vs TAMU, vs Cal Poly, vs UNM, vs USC) – Like the Spartans, these Sun Devils will have some new names to focus on this upcoming season. They lost their starting quarterback and top receiver, but return a great quarterback we saw for a few weeks last year: Mike Bercovici. Bercovici threw for 480+ yards in two of his three starts last season combining for a 9:2 TD to INT ratio. He's more than talented enough to take over the reigns in 2015 and should have a soft start to the season to get him confident. In fact, he threw for 510 yards and five touchdowns against USC last season in a 38-34 win.
Bercovici's go-to target is going to be D.J. Foster, a running back turned stud slot receiver for the Sun Devils. Foster has basically averaged 62/650/4 his last two seasons and that is with 287 total rushes. While he's not the same type of target as Jaelen Strong was, he has sure hands and can make plays in space.
Now that Foster has moved completely to wide receiver, it's time we see sophomore running back Demario Richard do some damage. Richard only saw double digit carries in three games last season, but averaged 5.7 yards per carry and had eight total touchdowns. He probably has the best matchups of anyone in this offense with two defenses that gave up 5+ ypc last season (Texas A&M and New Mexico) to go along with an FCS team (Cal Poly) in the first month of the season. All together, I think this offense can repeat as a top 20 (16th in 2014) scoring offense this season.
Tulsa (vs FAU, @UNM, @Oklahoma) – You can't have a RealestChrisKay article without the mention of the Tulsa Golden Hurricanes. If they were a rap song, I'd be the guy in the background echoing every fifth word to hype it up. After bringing over Baylor's 2006 through 2014 offensive coordinator, it's hard not to like their potential. He's going to ramp up the tempo and he'll have the weapons to handle it. While the first two offenses have been multi-dimensional, this Tulsa team will really only be dynamic via the passing game.
It all starts at the quarterback position where Dane Evans #GreatDaneTrain has a good grasp for the position and now has the experience to take advantage of the weapons he has. He completed 55.4% of passes for 3,102 yards in 2014. Those numbers won't blow your mind, but there has been word that people are impressed with his improvement throughout spring practice.
The really sexy part of this team is the wide receiver group. Keevan Lucas went for 101/1,219/11 as a sophomore and Keyarris Garrett had a solid 47/698/5 as a junior. This offense is going to throw it just as much as last season, but will make its players better due to the routes. Lucas is going to be a PPR monster while Garrett is going to have many long catches like he did last season when he averaged 14.9 yards per catch. This passing game will be much better than 2014 when Tulsa averaged just 24.7 points per game. Tulsa will have a nice jump-start on proving me right when they open up the season facing the 110th, 112th and 55th best scoring defenses in the country.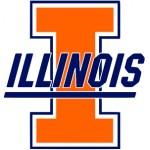 Illinois (vs Kent State, vs Western Illinois, @UNC, vs MTSU) – The Fighting Illini suffered a big blow when Mike Dudek tore his ACL in spring practice, but they have enough weapons to have a great month of September offensively. One big thing for us DFS players is the clarity we will have when it comes to Illinois' quarterback and running back starters. Wes Lunt and Josh Ferguson are 100% the starters and will be the go-to guys in this offense. Lunt had a ridiculous non-conference stat line of 11 touchdowns to three interceptions with over 1,200 passing yards. In those four games, Illinois won three of them. While he's not a dual-threat, the Fighting Illini will have to throw a ton to keep up with a few of these September offenses they are going to face.
In the running game, Josh Ferguson will have to become as big of a threat on the ground as he can be through the air. His big thing is carries. He has averaged over 5.0 yards per carry in two straight seasons, but only has 287 carries during that stretch. Ferguson's main value has come from his 50 catches in each of his last two seasons. If he continues to average 11-13 carries per game then he'll only ever be a cash game option, but if Illinois can learn to use him in a better role then we could see some special things out of Ferguson.
Dudek was a special receiver as a freshman, but now it'll be up to Geronimo Allison and Malik Turner to be the top non-running back targets on the team. Those two didn't put up sexy numbers in 2014 (66/854/6), but Dudek's 76 catches have to be dispersed somewhere. Turner was just a freshman last season and posted his best performance in the bowl game when he caught six passes for 84 yards. Allison is a 6'4 senior who caught 16 passes for 300 yards and two touchdowns in non-conference, regular season matchups last season. The Fighting Illini will be facing the 83rd, 96th and 119th best scoring defenses in the country last season to go along with an FCS team in the month of September.
Arkansas (vs UTEP, vs Toledo, vs Texas Tech, vs Texas A&M) – The Razorbacks are a team you must use early or not at all. Last season, Arkansas faced a similar schedule and went off for 20 touchdowns, 1,609 yards and 6.46 yards per carry average. Amazingly, they did all of that in just five games. This offense is strictly run based and they do it very well against non-SEC teams to say the least.
The interesting thing about this offense is they do all of this with two running backs: Jonathan Williams and Alex Collins. This two-headed monster put up near identical numbers in 2014, with both carrying the ball just over 200 times for 1,100 and 1,190 yards. These two both scored 12 touchdowns each during their great 2014 seasons and look to do the same in 2015. They'll have a great jump-start on these numbers when they face the 110th, 24th, 107th and 103rd run defenses when it came to yards per carry in 2014. If you target the three Texas teams then you'll be targeting 85 rushing touchdowns last season.
Be the first to know
Want FREE Fantasy and Gaming Advice and Savings Delivered to your Inbox? Sign up for our Newsletter.