Unless you're a super duper Cavaliers fan (and if that's the case… ouch, bro), the only reason the name "Craig Ehlo" sounds vaguely familiar to you is because you remember/have seen "The Shot." This shot, to be exact: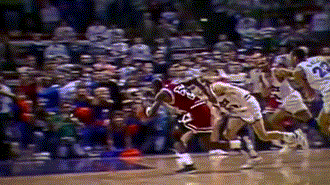 That's Ehlo, number 3, collapsing on the ground. He likely didn't realize that MJ would go on to be the greatest player of all time, and that giving up a game-winner to him wasn't so bad, but whatever. Don't feel bad for him, because he got arrested on a felony charge.
Via The Spokesman-Review:
Ehlo, who played in the NBA and most recently coached at Eastern Washington University, was arrested early Thursday on a domestic violence charge after firefighters encountered family members holding Ehlo down near a pile of his burning clothes.

Spokane County sheriff's deputies arrested Ehlo, 51, on the felony charge of first-degree reckless burning and a seperate [sic] charge of domestic violence, according to the Sheriff's Office. He was booked into Spokane county jail at 7:36 a.m.
Well, maybe you can feel bad for him, because he's clearly troubled. But not everyone who gets immortalized by MJ goes on to burn their clothes because of an argument with their wife. Right, Bryon Russell?
Photo via Getty