Madison Bumgarner's First Career Pinch Hit Proves Why Teams Should Fear Giants In Stretch Drive
The fact that the Giants used Madison Bumgarner as a pinch hitter on Tuesday is not all that shocking -- he was hitting .245 to that point, and had four home runs. What raised eyebrows was the circumstances.
The Giants were clinging to a 1-0 lead over the Cardinals in the seventh inning, and Bruce Bochy had four other hitters on the bench whom he could have used. But in came Bumgarner, who singled off of starter Lance Lynn with two outs, and eventually scored when Brandon Belt was hit by a pitch with the bases loaded. The Giants won 2-0.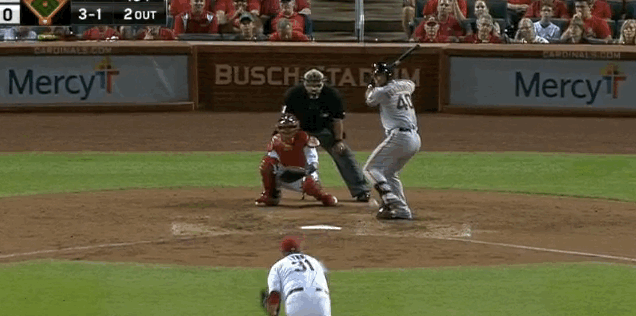 It was Bumgarner's first career pinch hit, and showed precisely why the Giants are still a threat to make the postseason. He effectively gives them an extra player at a time when they really need one. By being available as a hitter, Bumgarner allows Bochy to carry an extra pitcher in the bullpen -- a luxury other teams don't have as they wait for Sept. 1, when they can expand their active rosters from 25 to 40.
The Giants are 65-54 -- two games behind the Dodgers in the NL West, and three games behind the Cubs for the second NL Wild Card spot. So in effect having an extra player on the roster for the next 12 games -- among them three vs. the Cubs and one vs. the Dodgers -- is pretty huge.
Earlier this month, while subbing as co-host of Pardon The Interruption, Jason Whitlock was asked if the Giants or Cubs had a better chance of making the post-season. Whitlock: "If the Giants were 10 games behind the Cubs with 10 to play, I;d still pick the Giants."
Bumgarner is a big reason why.
Be the first to know
Want FREE Fantasy and Gaming Advice and Savings Delivered to your Inbox? Sign up for our Newsletter.