The Royals And The Umpires Teamed Up To Screw With The Blue Jays
Shit got real, real fast, in yesterday's series finale between the Blue Jays and Royals in Toronto. Both teams are looking like worthy AL postseason representatives, especially since the Jays loaded up on bats and arms before the trade deadline last week. Their series against the Royals was a test of both their baseball skill and their mental fortitude, as Sunday's game turned into a war of attrition against numerous inside pitches and curious decision-making by the umpires.
MLB.com has a supercut of everything that went down, but it all started when Toronto's Josh Donaldson was hit by Royals' starting pitcher and hot head Edinson Volquez in the first inning. Home plate umpire Jim Wolf issued a warning to both teams not to do that anymore -- a warning that promptly went unheeded until the 8th inning, despite numerous HBPs and inside pitches thrown by the Royals throughout the rest of the game. Only when Aaron Sanchez of the Blue Jays retaliated did a player get tossed.
Watch the highlights:
Sure, Sanchez almost certainly went after Alcides Escobar, but the Royals (led by Volquez and Ryan Madsen) were the aggressors all day. And while Volquez chose to play the role of the bully dickhead, the Jays -- for the most part -- responded with their play:
By the way, here's what another Royals pitcher and known instigator Yordano Ventura had to say to Jose Bautista after the game (in now-deleted tweets):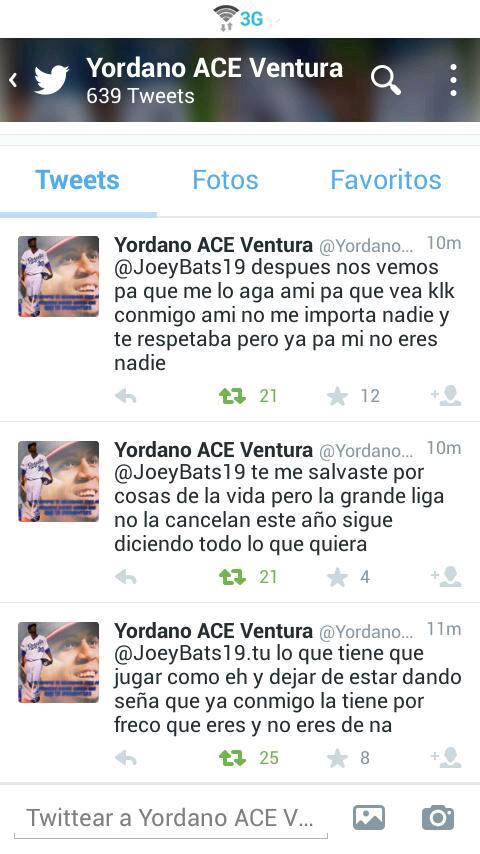 (Rough translation: "We will meet again later and if you do that with me, you'll see what I'm about. I don't care about anybody. I used to respect you, but you're a nobody. … You got lucky this time, but MLB doesn't get canceled after this season. Keep running your mouth. … You need to stop giving signs. You're gonna get it from me for being fresh and you're a nobody.")
Look man, nobody is the good guy when a baseball game is more about fighting and trash talk than actual game play (the ratio should be more like 85:15, baseball to trash talk). But between the Royals having some kind of shitty chip on their shoulder despite being one of the best teams in the league and the umpires' complete mismanagement of the situation, the Jays got fucked with yesterday. Kudos to them for pulling out the win regardless.
Be the first to know
Want FREE Fantasy and Gaming Advice and Savings Delivered to your Inbox? Sign up for our Newsletter.