Somewhere deep inside, near our inner Ninja, I think that all Giants fans figured Brian Wilson would one day play again for San Francisco. That's why this news is somewhat shocking: Wilson today signed a minor league contract with the Dodgers, who have guaranteed him, according to reports, an eventual spot on the big league roster.
I realize that Wilson is a polarizing figure for non-Giants fans. Over the top? Sure? Annoying? Somewhat. But the real facts are these:
No one in MLB had more saves between 2009 and 2011.
In 2010, he was instrumental in the Giants' first World Series title since 1954.
Like him or not, he's an original.
Some are saying that Wilson has become baseball's first double agent, joining the Dodgers to strike at them from within. There can be no other explanation, say Giants fans. More likely, however, is that baseball is a business, and the Dodgers have offered him a job when the Giants wouldn't.
Wilson underwent his second Tommy John surgery last season, and hasn't pitched in 15 months (although he was a fixture in the Giants dugout for most of last season). He's been scouted by at least eight teams this month, and is deemed ready to pitch. The Dodgers finally bit.
Brian Wilson got guaranteed big league deal, said a source

— Jerry Crasnick (@jcrasnick) July 30, 2013
Brian Wilson really dissed Giant fans by taking a job he was offered rather than not work at all for a team that didn't offer him a deal. — Ray Ratto (@RattoCSN) July 30, 2013

At any rate, the Giants-Dodgers rivalry just got more interesting.
Our Top Nine Favorite Brian Wilson Animated GIF Moments:
9. 1980s Cell Phone.
8. Lip-Synching "Dynamite" With Cody Ross, Lou Seal And Keenan Cahill (video here).
7. The ESPYs I.
6. The ESPYs II.
5. ESPN Commercial.
4. Bongos.
3 (a). Wilson Dubstep.
3 (b). Wilson Dubstep.
2. Dugout Gatorade Cooler Destruction.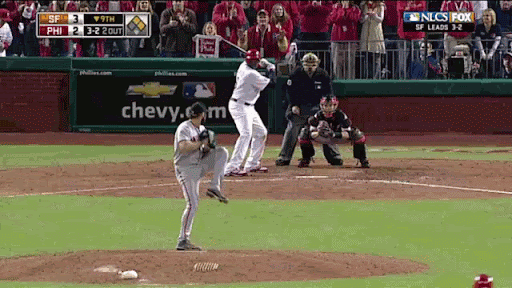 1. Final Out Of 2011 NLCS. Ryan Howard watches strike three, Phillies dispatched, SF headed to first World Series title since 1954. If he were known for this alone, that would be enough for Giants fans.
And no Giants farewell to Brian Wilson would be complete without this:
Yes, the blood of the wicked shall be spilled.