Giants Make Easy Work Of Royals In Game 1: Your World Series Roundup
The Yostseason continues on Tuesday and we have you covered with our live blog of Game 1 of the World Series.
Giants take 3-0 lead in top of the first: "Big Game" James Shields is not living up to his nickname early on. Pablo Sandoval doubled in a run in the top of the first inning to get things going. Then, Hunter Pence and his beard took Shields deep for a two-run blast. The crazy-eyed right fielder, who did not know Kansas City was in Missouri, has reached base in all 11 postseason games and homered for the first time since Sept. 20. Shields allowed three runs on five hits in the first.
In the bottom of the frame, Madison Bumgarner showed his quick reflexes by snagging a comebacker from Norichika Aoki.
Royals leave the bases stranded in the third: Omar Infante reached base on an error and Mike Moustakas doubled off Bumgarner to put two runners on for the Royals. Bumgarner recovered with back-to-back strikeouts before walking Lorenzo Cain. Eric Hosmer left the bases stranded with a ground out to second.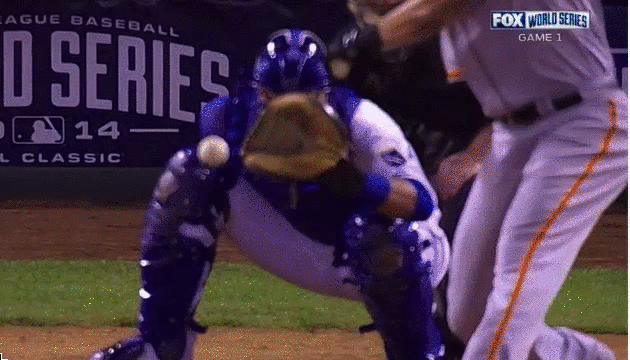 Shields' night is over after giving up RBI single in the fourth: After a double from Pence, a wild pitch and a walk, Shields gave up an RBI single to Michael Morse to give San Francisco a 4-0 lead. Shields was pulled for Danny Duffy.
Shields exits. Faced 16 hitters. 8 reached base. 2nd shortest WS start by a Royal, trailing Rich Gale (6 outs, Game 6, 1980 WS) #worldseries

— Jayson Stark (@jaysonst) October 22, 2014
Danny Duffy walks the bases loaded in the fourth: Danny Duffy has thrown 13 pitches. Nine of them have been balls. Gregor Blanco just drew a bases-loaded walk to give the Giants a 5-0 lead.
Madison Bumgarner career W-L with 5+ runs of support: 35-1 (includes postseason)... the 1 loss was to the Rockies in June

— ESPN Stats & Info (@ESPNStatsInfo) October 22, 2014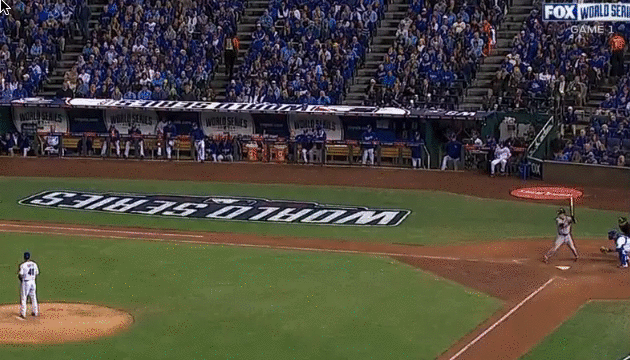 Giants add to their lead in the seventh: After a walk to Gregor Blanco, Joe Panik lined a triple down the right field. Norichika Aoki made a sliding effort and was unable to cut off Panik's hit, giving the Giants a 6-0 lead in the seventh. Pablo Sandoval made it 7-0 with a single through the drawn-in infield to score Panik from third.
Yep. It's been that kind of night for the Royals.

Se durmió @dSoldevila en Kauffman Stadium > pic.twitter.com/tnjr586VV0

— Enrique Rojas/ESPN (@Enrique_Rojas1) October 22, 2014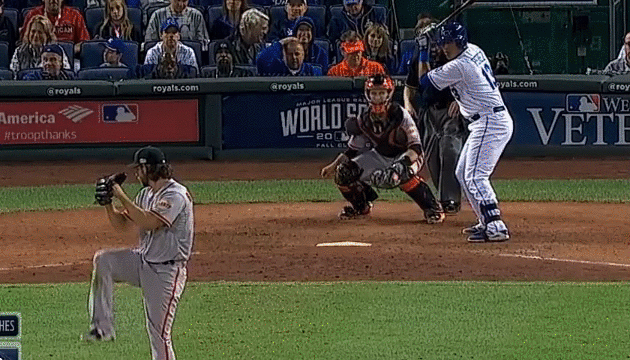 The Royals are finally on the board in the seventh: Madison Bumgarner's road postseason scoreless streak is over at 32 2/3 innings, a MLB record. He gave up a solo home run to Salvador Perez in the bottom of the seventh. It was Perez's first homer of the postseason.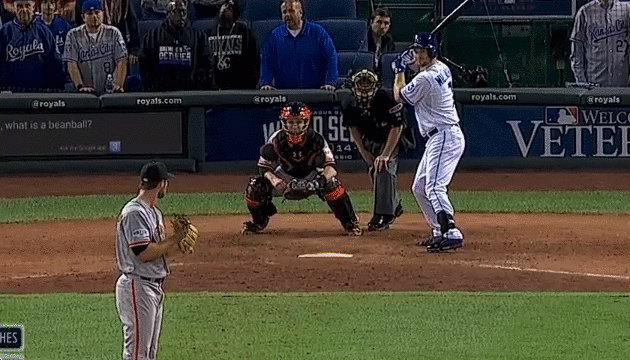 Giants close out comfortable 7-1 win over Royals: Hunter Strickland tossed a 1-2-3 ninth inning to secure the win for San Francisco. Bumgarner tossed seven innings of one-run ball, allowing only three hits and one walk while striking out five to give his team a 1-0 series lead. James Shields takes the loss after coughing up five runs on seven hits and one walk while striking out one in three innings of work.
Photo via Getty
Be the first to know
Want FREE Fantasy and Gaming Advice and Savings Delivered to your Inbox? Sign up for our Newsletter.