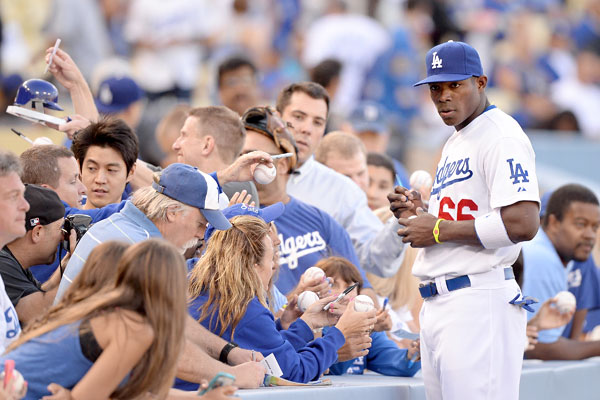 Yasiel Puig is one of the most mysterious athletes of our time. In a world with relentless media coverage, Puig didn't exist to many of us until a couple of months ago. His rise to fame has been rapid, but details of his journey have been few and far between.
Last night, Yahoo! Sports' Jeff Passan posted an excellent feature on Yasiel Puig's defection to the United States, uncovering more information on the young slugger's journey. You should check out the whole thing. Here are some highlights.
In April of 2012, Yasiel's first attempt at defection fell short when a U.S Coast Guard boat, the Vigilant, intercepted the vessel he and other Cuban defectors were on. The Coast Guard's Policy in this situation is to return the illegal passengers back to their country of origin. That's exactly what happened to Puig and his shipmates.
This was not the first time Puig had attempted an escape:
During the 2011 World Cup in Rotterdam, Puig said, he and another player tried to defect. Left-handed pitcher Gerardo Concepcion left successfully and signed for $6 million with the Chicago Cubs. Puig was caught, and Cuba banned him from playing.
Puig even attempted to bribe the ship's translator, Carlos Torres, with the proposition of being his agent.
On the good days, Puig would play cards with his friends and wax on about baseball. His older friend said he was better than Cespedes, that one day he was going to play in the major leagues, and maybe Torres could be his agent, take his small slice of the booty that awaited.
Before the vessel met up with Cuban authorities, Torres became the first American to get Puig's signature.
Upon his arrival in Cuba, Puig was disciplined with another year away from baseball. Two months later, Puig was living in Mexico. The circumstances of which are still unclear. Puig will not comment on any of his attempts to escape Cuba.
Some say he was brought to Cancun by a drug cartel in exchange for a portion of his contract. This would certainly explain his silence on his journey to the MLB. If the story is true we may never know for sure. Funding a Mexican drug cartel would not only damage his image, but also land him in trouble with the law.
When future agent Jaime Torres met Puig in Mexico, he told Yahoo! Sports:
Puig "was scared. I remember he asked me: 'Please help me. Help me get to the big leagues.'"
After Torres notified major league clubs of Puig's defection to Mexico, a migration of scouts flew in. Many left disappointed. Yasiel had not played baseball for a year and was out of shape. To the surprise of the baseball world, the Dodgers saw through the red flags and offered him a seven-year, $42 million contract. The deadline to restrict the money international players was just days away and many thought the Dodgers were insane to give Puig this much money. It's early yet for the Cuban expatriate, but if he comes close to sustaining his current production, he will far exceed this contract.
Yasiel Puig didn't just exceed the expectations of baseball experts around the league, he exceeded the expectations for any kid that grows up in an island that keeps its people stuck in the 1960s.