Another LeBron Theory: Maybe Winning A Championship For Your City Isn't As Cool As Winning One For Yourself
First, as per usual, a disclaimer: I think the Cleveland Cavaliers are going to be just fine. They'll be more than fine; they'll compete for championships for years, and I believe eventually they will win at least one. Considering how Cleveland sports have fared over the past four decades, I'd say that's pretty good.
Now, to put forth yet another theory as to why the Cavs, featuring the best player on the planet, two other All-Stars and a supporting cast filled with quality role players and championship winners, have started this season 1-3. We've already heard that LeBron is no longer on performance-enhancing drugs, or that he can't mesh with Kyrie Irving, or that there are too many ball-dominant guys on the team, or that -- gasp! -- it's just too early in the season to say anything definitive about this team. The latter, for the record, is my take.
But -- and this is a big but -- anyone who has watched LeBron through these first four games (last night's semi-valiant losing effort aside) likely noticed one thing is missing from his game: hustle. It's one thing to be passive on the offensive end, and it's another to completely lose your man, or let a guy blow past you with a baby pump fake, leading to an open jumper because you were too slow getting over. Here's a perfect example from Cleveland's game against Portland earlier in the week: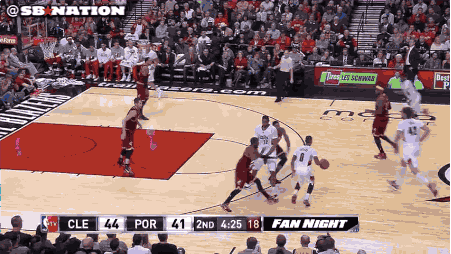 Ouch. That's James Harden-esque defense from a guy who year in and year old competes to be the game's best defender. Both his effort and technique are lacking through week one of the season -- something we didn't expect from a guy who ostensibly chose Cleveland because of his deep personal connection with the city and franchise. I mean, that's what he talks about in the commercials to help sell sneakers, right?
The Miami Heat circa 2010-11 were also slow out of the gate, but no one questioned LeBron's intensity then -- just his ability to mesh with his new teammates. So here's a question: Is winning a championship for Cleveland as motivating for LeBron as winning one for himself?
When LeBron first ditched the Midwest for South Beach, he did so for one reason: To win. The supporting casts around him in Cleveland were never enough to help him get over the hump, and going to Miami afforded him the best chance to get the monkey that is being ring-less off his back. When he finally did win one in 2012, you could see the relief. His legacy was in some sense secured, just by having one. He wouldn't be Karl Malone or Patrick Ewing -- he was on truly on track to be among the game's greats, like Michael Jordan and Kareem Abdul-Jabbar. No matter what, he was now an NBA champion. It made going back and doing it again next year easier; there was less pressure on him, at least. By winning in Miami, he fulfilled his destiny.
Coming back to Cleveland, LeBron saw himself as something of an elder statesman. He had the wisdom and experience necessary now -- not just the skills -- to win rings, and he wanted to impart that knowledge onto guys like Irving and Dion Waiters (and eventually Kevin Love) while not carrying most of the weight himself, as he had to in his last season with the Heat. He also knew, or said he knew, what winning at home would mean. He came for basketball reasons, but he also came for personal ones.
But perhaps those personal reasons aren't enough anymore. Perhaps when he was drafted by his home-state team out of high school it was, but having already scaled the mountain-top, mainly for himself, maybe he feels overwhelmed by a new sort of a pressure, a pressure that has less to do with him specifically and more about Ohio generally. And maybe, in LeBron's view, not winning in Cleveland isn't nearly as bad as never having won at all. At least he came back, and at least he tried. If he had gone his whole career without a title, that would be devastating; if Cleveland goes another 40 years without one, well, why didn't Johnny Manziel do it? Why didn't the Indians step up to the plate? Why is it all on him?
There's no doubt that LeBron believes, at least in part, that winning and competing on behalf of his state is important -- if only because his brand is now built on the idea. And yet, we're all a little underwhelmed with what that concept has brought out of LeBron in the first four games of his return. Could it be that his most competitive days are behind him? Has the fire inside dimmed? Did he underestimate his teammates' abilities, and thus put himself back in the same position he was with the 2009 Cavaliers, or the 2013 Heat?
The theory that the team needs time to gel is more believable than this. But something is clearly missing from LeBron's game, and it's not just muscle mass. So far, it's heart. And if Cleveland isn't his heart -- if it isn't the reason for all this -- than what is it?
Photo via Getty
Be the first to know
Want FREE Fantasy and Betting Advice and Savings Delivered to your Inbox? Sign up for our Newsletter.