Iman Shumpert: Going To Kill You
The Knicks, man. What can you say about this team so far? Early optimism from a 2-1 start has dissipated in the face of four straight losses, the latest one coming against the Hawks on Saturday night after blowing an early second-half lead. Oftentimes, as has often been in the case, Iman Shumpert seemed like the only dude trying out there -- even if he isn't the most talented, he's the one who wants it the most.
Shumpert's passion for not losing, coupled with the Knicks losing again, resulted in a ridiculously long gif which will inevitably be used on Internet message boards to signify prolonged distress on other topics, such as the Lakers' entire season and the 76ers' entire season and, of course, the Knicks' entire season.
Beware Iman Shumpert, folks (because this gif is really long, feel free to check out this video version which shouldn't destroy your browser):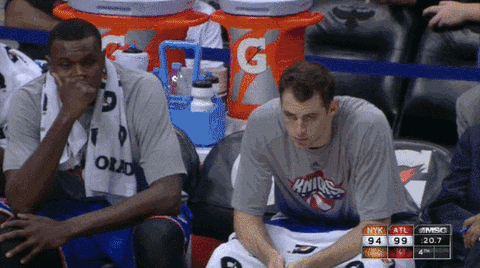 The Knicks play the Hawks again tonight.
[r/nba]
Be the first to know
Want FREE Fantasy and Gaming Advice and Savings Delivered to your Inbox? Sign up for our Newsletter.