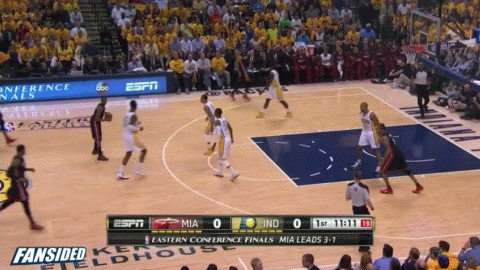 This LeBron alley-oop jam made it 2-0 in Game 5 in Indiana, as the Pacers fight to stay alive. Nice pick by Rashard Lewis, by the way.
Birdman Andersen is out, Ray Allen (10 points at halftime) and Greg Oden are in, Roy Hibbert seems to be playing well (scratch that — 4 points at half), and Miami leads Indiana 31-26 late in the second quarter.
UPDATE: Heat lead 42-33 at halftime. Pacers were outscored 25-11 in second quarter. At home. Yikes.
UPDATE: Well, how times have changed. The Pacers outscored the Heat 31-15 in the third quarter, and lead 81-78 with 4:18 remaining.
UPDATE: Pacers win, 93-90. Heat lead series 3-2.