Welcome to The Daily Yam, bringing you the top play from the night before, anything else you might have missed, and what to look forward to today. It's your one-stop shop when you skipped last night's action, or have forgotten what day it is. Last night, the Knicks' Iman Shumpert demonstrated the importance of boxing out when he dropped the putback yammer on Indiana.
Your Daily Yam.
This is a good one, folks. As you may recall, the true spirit of the Daily Yam is a monster dunk, one that is equal parts skill and swagger. In the spirit of being inclusive, we have expanded the concept to include any play that is "the jumpoff," but there's nothing in the sports world like a true yam.
In the second quarter, Shumpert was at the three point line when Chris Copeland tossed up a brick. A textbook case of right place, right time and great hops, Shumpert was there for the follow:
Can we see that in a GIF, please? (Why thank you, Bleacher Report):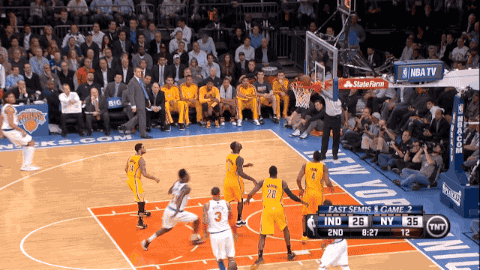 While this was not a back-breaker — it was just the second quarter, after all — the Knicks would go on to trounce the Pacers 105-79 behind a 30-2 run (!) late in the game.
What Else Happened Last Night?
The Grizzlies evened their series with the Thunder behind a big night from Mike Conley, winning 99-93; the Sharks earned a sweep over the Canucks with an OT victory last night — they're the first team to move past the first round of the NHL playoffs; Matt Harvey gave up one hit in nine innings as the Mets beat the White Sox 1-0 in the 10th.
What's On Tap Today?
The Heat try to avenge their Game 1 loss to the Bulls at 7 p.m. ET; same for the Warriors in San Antonio at 9:30 p.m. ET; a good Premier League match at 2:45 p.m. ET between Tottenham and Chelsea; Bruins-Maple Leafs at 7 p.m. ET; Caps-Rangers at 7:30 p.m. ET; Kings-Blues at 9 p.m. ET; Red Wings-Ducks at 10 p.m. ET.
It's Wednesday. Not much to say about that.