You can watch the victory parade right now on the Sun Sports Florida website if you're outside of Florida. Fans in Florida can tune into Sun Sports on TV or stream online at ESPN 3.
Here's the stream inside American Airlines Arena.
Here's Lebron at the start of the parade:

The return of the shoes that predicted LeBron's second championship. What else do these shoes know?

Birdman started flapping his wings. You know because his name is Birdman:
Bird flapping down Biscayne Boulevard! #HEATParade https://t.co/3nyUeRlTd7

— Miami HEAT (@MiamiHEAT) June 24, 2013
American Airlines Arena is prepped for the Heat's entrance. Will the fans stay, or will they abandon their team like in Game 6:
Platform ready inside AmericanAirlines Arena pic.twitter.com/wooFR1TB2Z

— Ethan J. Skolnick (@EthanJSkolnick) June 24, 2013
So Lebron has to promise 21 championships after winning 2 championships, since he guaranteed seven championships after "The Decision." Also it looks like the same stage where this happened. I always thought the stage was burned after the welcome party.
Crowd inside @AAarena watching #Heatparade getting closer; event inside is only for season-ticket holders. pic.twitter.com/O4KMkV12iF

— The Miami Herald (@MiamiHerald) June 24, 2013

Take that Nadal. Never too early to twist the knife into the 2013 French Open Champion:
The Heat championship celebration lasted longer than Rafael Nadal's 2013 playing schedule at Wimbledon. By a lot.

— Tim Reynolds (@ByTimReynolds) June 24, 2013
LeBron James wants to make sweet love to Larry O'Brien.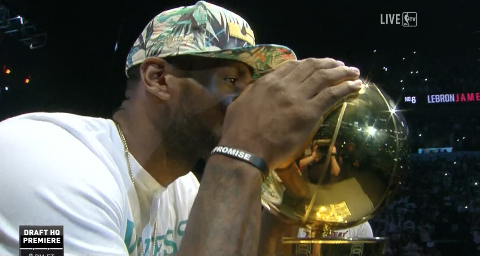 Pat Riley's true calling was always dance. Basketball was just a distraction. #WHITEHOT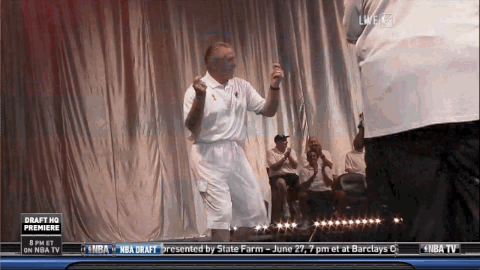 Dwyane Wade approaches the Larry O'Brien Trophy the exact opposite way Pat Riley just did:

Haslem just admitted to being a reverse-hitman. My favorite quote of the festivities so far:
"I never thought I would make this much money. $2,000 to slap somebody up the head I'd pay that all day…I'd pay $10,000," – udonis haslem

— Rohan Nadkarni (@Rohan_NU) June 24, 2013
Heat fans throw shoes on the stage in celebration of Miller's shoeless three in Game 6. They don't look like his size though.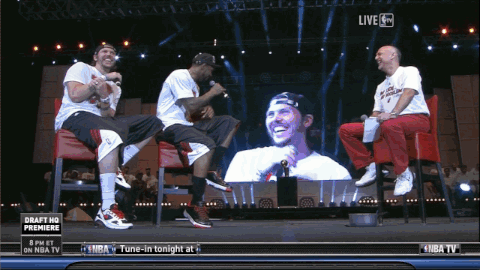 Earlier in the parade, LeBron and half the heat team were almost beheaded by an overpass. That would have hurt their 2014 title hopes.
I think this gif speaks for itself: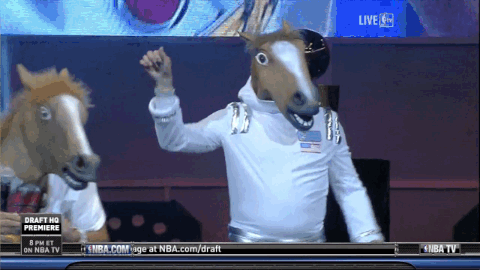 The confetti cannons go off and we end this ceremony with LeBron dancing to the harlem shake song:
Harlem Shake at Heat championship victory celebration. https://t.co/VehCIoOu9u

— Joseph Goodman (@JoeGoodmanJr) June 24, 2013
[photos via bleacher report]