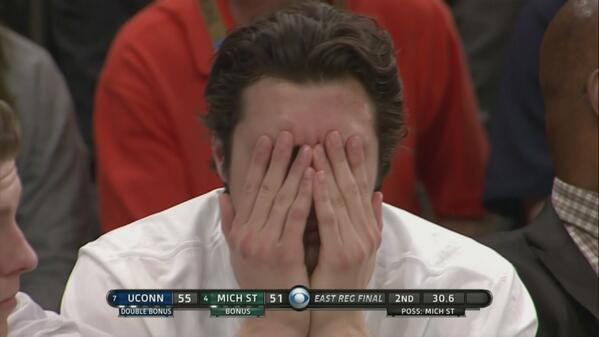 If you had 7-seed UConn going to the Final Four, you're probably lying. (If not, show us your bracket so we can laud you for being awesome/possibly a wizard.) A lot of people had Michigan State not only advancing out of the East Region, but to the title game and the championship. I picked them. Barack Obama picked them. Most of ESPN's "experts" picked them. Much of America picked them. We were all wrong.
Here's the exclamation point on the win, which came off a last-chance three by MSU's Travis Trice. For some reason Phillip Nolan didn't pass it ahead to his open teammate, but the result was an emphatic slam:
Few people had UConn getting out of the Round of 32, past 2-seed Villanova. But once they did, a viable path opened up for them. The Sweet 16 and Elite 8 were at Madison Square Garden, where UConn has a history of success and essentially two home games thanks to the nearby fan base. They also have a bona fide star in Shabazz Napier, who scored 25 points and grabbed 6 boards today.
This team is the second 7-seed ever to make the Final Four. Can they keep this run going with another upset of overall 1-seed Florida? I wouldn't bet against them at this point. But don't listen to me — I had MSU winning it all.
Photo via SB Nation