If Frankie Grizzle-Malgrat does go on to the next level (which we encourage him to do though we're not quite sure what that means), might we suggest the revamped Legends Football League? He's a emotional advantage for whoever's sideline he's on, and clearly, the ladies love him.
Lmfao lol he really living man #RedLightning pic.twitter.com/LUdX9qOycj

— Brandon (@TheJokerJavis) January 7, 2014
Ok, maybe that's too under-the-radar for the most famous ball boy in human history. Let's talk NFL. Any takers?
Can we get Red Lightning an invite to the combine?

— JJ Watt (@JJWatt) January 7, 2014
We're with J.J. Get this kid to a combine.
Red lightning, as he's known amongst people with TVs and Twitter and friends, got his nickname from his red-hot enthusiasm for FSU football — which was on display once again in last night's epic BCS National Championship. He spent the pre-game as he always does, warming up Jameis, chatting with him, keeping his mind nimble.
Jamies Winston warming up red lightning https://t.co/lsp6XVr5Ki

— David Portnoy (@stoolpresidente) January 7, 2014
He even managed to get in some wind sprints…
Red Lightning has been spotted. #BestFSUPlayer pic.twitter.com/QxXcQhoS4v

— John Agudelo (@swagudelo8) January 7, 2014
But things weren't all fun and games and sprinting and beard for the 5'7″ FSU Junior. Down 21-3 late in the second quarter, Red Lightning found himself in a whirlwind of negative emotion, as the possibility of a blowout loomed large.
With his chakras out of alignment and the Seminoles morale dropping like a rock, Grizzle-Malgrat dug deep, and found the courage to follow Jameis Winston down the sideline as he tore through the Auburn secondary, helping him up after he was knocked out of bounds. Roll the tape.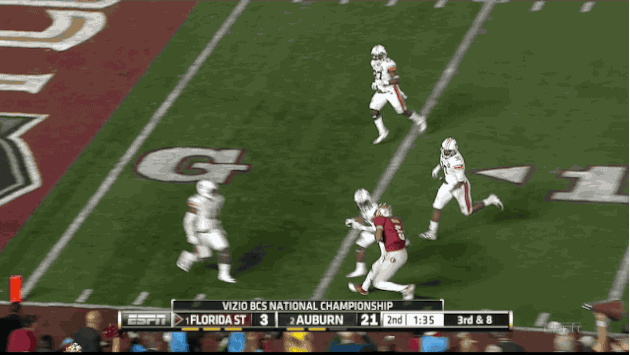 The rest was history, as Florida State went into the half 21-10, and gradually climbed back, taking a three-point lead with less than 10 seconds remaining in regulation. Red Lightning finally had that elusive National title he needed to solidify his place as the best ball boy of all time. He had the hat, and, once again, he had the girl(s).
Red Lightning and Friends. pic.twitter.com/4DYCecgDAA

— Noles247.com (@Noles247) January 7, 2014
Red Lightning is the only reason why I'm watching the game tonight pic.twitter.com/ymgq63HQq4

— Alec Ditoro1⃣8⃣ (@Alec_Ditoro18) January 7, 2014
And based on this parody account, he'll be returning next season, stronger, faster, and more focused. We're excited to see if this year's epic ride goes to his head. Maybe, if we're lucky, we'll see a rematch next year (FSU will be a top ranked program in 2014), and Red can once again captivate a nation.
I made my decision! I talked to Jameis, I will return to school and be packaged with Jameis for next years draft if he declares!

— Red Lightning (@FSU_BallBoy) January 7, 2014
THE END
EPILOGUE: Red Lightning's BCS Championship experience in his own words (via FTW)
It was a early start to the day. Up at 7:30 and at the Rose Bowl no later than 9:00. We had our normal game day routine; setting up the field, putting jerseys on pads and making sure every player had what they needed. We also got to enjoy a little free time and go on the field before the players got there and take some pictures and take the moment all in.

Once the players got there, it was go time. The final preparations to get the players whatever else they needed and to do our pre game and game time jobs.

Once the game started, it was craziness from there. Since we were off to not such a good start, it was a little nerve-wracking. As the game went on and we started coming back, so did the confidence.

However, in the end, with Jameis being Jameis and with the help of the offense, we came out on top. (It was) one of the most surreal things I've ever experienced. As the confetti dropped I couldn't help myself but to shed some tears because this was a dream come true. I also found every player I could to give them a hug and tell them congrats.

Another exciting moment was being able to direct the band in the war chant! But all in all, it was an unforgettable night and a dream come true!

– Frankie Grizzle-Malgrat