Todd Gurley Is The Only Winner From This Potential One-Year Suspension
In the NCAA, the punishment system is broken and everything is backwards. When a running back and elite college football player like Georgia Bulldogs running back Todd Gurley gets suspended for the year, he's somehow the benefactor -- and everyone else, and I mean everyone, gets screwed.
Gurley reportedly signed and sold memorabilia. He has been suspended indefinitely and is expected to be suspended for the entire season -- maybe more. If it's all true, then Gurley is making out like a bandit. Everyone else? Not so much.
Todd Gurley Hurdles Any Real Punishment:
Gurley makes it out of this season unscathed and will likely be the first running back taken in the 2015 NFL Draft. He's demonstrated he is too good for college football, and that he absolutely has the potential to play in the pros. So long as his combine results are good, he'll be the first running back taken. But the combine was a constant, and he always had to impress in Indianapolis with or without a suspension. The regular season was not a constant, and Gurley could have gotten injured. If nothing else, he's avoided the wear and tear of 7 regular season games and a postseason game. His draft stock could have raised in tiny increments, but for the most part, Gurley leaves questions unanswered. Instead of risking injury, he can begin preparing for the draft insanely early. He'll probably have to begin to prep his sob story explaining why he needed the supposed $2,000 from the autographs.
Oh, you want to punish me, do you NCAA? Triangle button:
Spencer Hall Got Trolled For Absolutely No Reason:
SB Nation's editorial director did his job and got destroyed for it. The guy was releasing the information on the Todd Gurley suspension. He delivered news -- which is his job. Naturally, fans misunderstood the situation and thought he was the memorabilia dealer that turned Gurley in. Fans made a snap judgment and trolled on twitter (-- which is their job?). And poor Spencer Hall could basically be on the next edition of mean tweets. He seemed to take it all in stride.
THIS HAS GONE TOO FAR RT @Abshire_Chris: I hear @edsbs invented fedoras, too.

— Spencer Hall (@edsbs) October 10, 2014
NCAA Looks Stupid -- Still:
NCAA continues to follow their rules, which is a problem, because their rules are dumb. The pay for play debate had quieted down. The college football season was off to a somewhat graceful start. And then this happened. They have to punish Gurley -- again, their job. But it stirs up the conversation that no one in the NCAA wants to be having. And it circles around one question: If they are selling Todd Gurley jerseys, why can't Todd Gurley sell Todd Gurley jerseys?
Hey NCAA, where'd you get your punishments? The Toilet... Store?
Georgia Fans Lose Their Best Player:
Sad Georgia fans are sad indeed. Drew Margary is too right.
University Of Georgia Loses It's Best Player:
They say running backs are replaceable, which is mostly true. But Todd Gurley is a special talent that is just plain better than everyone. And while Georgia's yards per carry may stay the same, they're losing a player who was a leader and stabilizing force on offense. Plus, he's a human highlight reel and former/potential-Heisman candidate, which is always good for recruiting.
You, Yes, You On The Coach:
You get screwed out of college football's best running back. Most players need the full NCAA season to prove they are NFL-worthy, but Gurley is so good he only needed five games. That kind of talent is fun to watch. And there was always the off chance that he could have won the Heisman Trophy. You lost the opportunity to watch a running back that makes for really, really good television.
To conclude: A meme.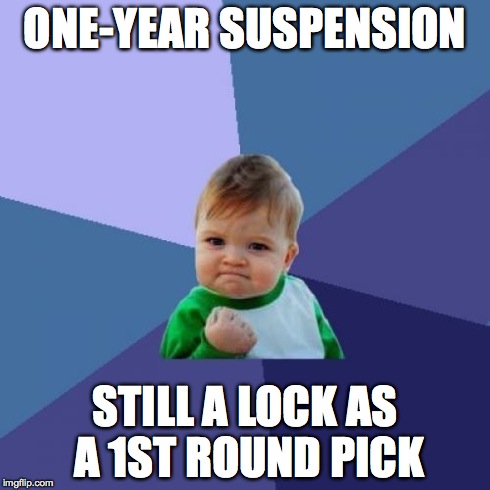 Be the first to know
Want FREE Fantasy and Betting Advice and Savings Delivered to your Inbox? Sign up for our Newsletter.