Cheer Up, Jim Harbaugh, You're Going To The Super Bowl
The 49ers beat the Falcons 28-24 today in a downright fantastic football game to clinch a spot in the Super Bowl, and move us dangerously close to a Harbaugh Bowl that would be the only thing anyone talked about for the next two weeks. However, before the 49ers clinched that victory, the Falcons were moving the ball downfield with a chance to take a late lead. The Niners eventually stopped them, but before the drive stalled, the Falcons converted on a critical fourth down. On this fourth down conversion, the ball looked like it might have slipped out of receiver Harry Douglas's hands. Officials determined it did not. Take it away, Crazeballs Jim: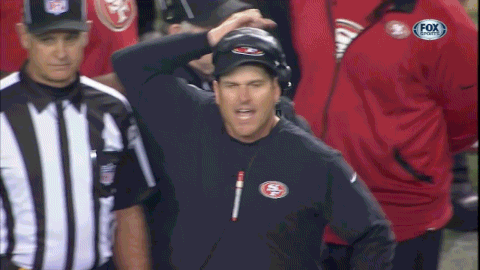 In a world full of great Jim Harbaugh freakouts, this may be one Harbaugh Freakout to rule them all. Harbaugh did something sort of similar during the Orange Bowl a couple years ago (a game his team also won, that one in a blowout), but the histrionics were even more exaggerated this time, and given the critical juncture at which this occurred, I'm going to go ahead and crown this the No. 1 Jim Harbaugh Freakout of All Time - a prestigious title if ever there were one. Why do I get the feeling it might only keep the title for a couple more weeks? See it below, in video form.
Be the first to know
Want FREE Fantasy and Gaming Advice and Savings Delivered to your Inbox? Sign up for our Newsletter.