According to an ESPN report this afternoon, Northwestern head football coach Pat Fitzgerald has urged his team to vote against unionizing in a post-practice media availability today.
Here's how surprised I was while reading the article: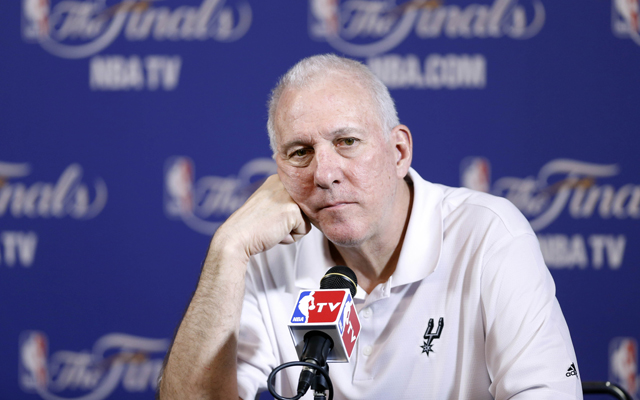 And why was I at a Popovich-esque level of disdain coupled with indifference while reading about Fitzgerald's speech? Because there's literally nothing in the world less surprising than hearing that a college football coach doesn't want his players to unionize. As the top comment on the ESPN article succinctly put it, Fitzgerald is the company man saying not to vote against the company line.
Unionizing is bad for the business of college football. It's for the NCAA. It's bad for universities who pull in millions off of these kid every single year. On the other hand, unionizing is great as a starting point for football players to push for better long-term health benefits and maybe, just maybe, some financial compensation for taking part in what is pretty much an all-year, full-time job.
Here are some of the more amusing quotes from Fitz:
"I believe it's in their best interests to vote no. With the research that I've done, I'm going to stick to the facts and I'm going to do everything in my power to educate our guys. Our university is going to do that. We'll give them all the resources they need to get the facts."
So, you're going to lie to them in order to protect your employer is what you're saying, right?
"This is not a national issue. That's my understanding with the NLRB. This is that organization against Northwestern, and I have to educate our guys on that. That's what we'll stick to, the facts, and I look forward to unbelievable positive change."
But it is a national issue. It always has been and it always will be. This one specific vote on April 25 only affects Northwestern football players, but it would set a precedent that can and will assist teams around the nation in doing the same if they so choose.
Oh, and an a related note, guess who hasn't said one word about the unionization controversy? You guessed it: NCAA SuperVillian Mark "Bane" Emmert.
(Full disclosure: The author of this post is a Penn State student and made that Bane Emmert image following a scandal you may or may not remember.)