If there was ever a time for you to stop watching pornography on the Internet and spend a few hours watching football with your friends and family, it was yesterday. As expected, the Super Bowl pulled in massive ratings this year, in part because a sizable portion of the population that usually spends Sunday nights masturbating instead watched the Seahawks put the hurt on the Broncos.
Just as they did for the NHL and NBA Finals, our friends at Pornhub.com (NSFW, obviously) put together a comprehensive report on the site's traffic change during the game. The percentage of traffic in Colorado and Washington states — and America as a whole — plummeted. Even Canada's traffic fell as low as 15 percent below its average. Worldwide traffic outside of America stayed mostly consistent, which isn't surprising.
Check out some of the charts below to see exactly how much of Denver, Seattle and America were watching men bash each other in the head on TV instead of… you know, sex stuff, on their computer screens.
Via Pornhub Insights: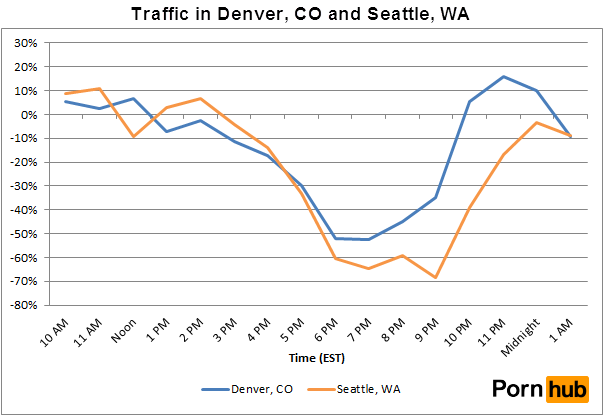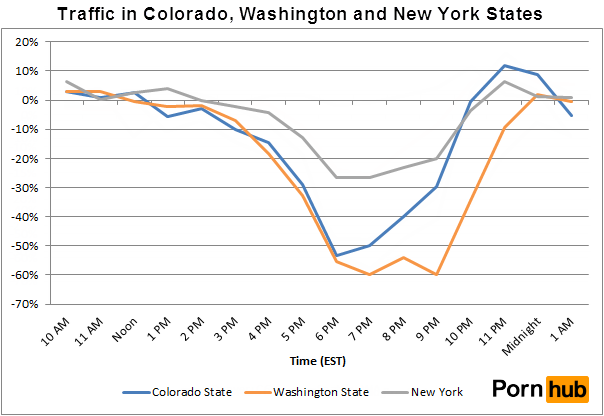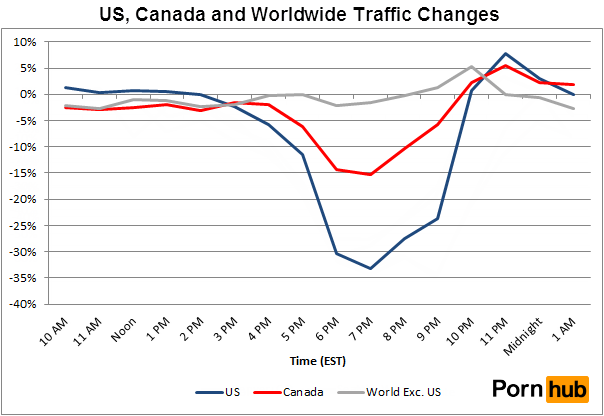 Notice that porn traffic jumps up well before the game officially ended, thanks to the blowout.
Our favorite stat of the night: Denver's Pornhub traffic increased by nearly 11 percent after the game. Orgasms > dealing with the reality of getting bludgeoned by Pete Carroll, always.
Pornhub will continue to compile data on the historic night throughout the day, so be sure to check back to their Insights page often — if you aren't too busy masturbating, that is.
Photo via Getty