On Tuesday, USA TODAY Sports' Tom Pelissero reported from the NFL owners meeting in Chicago that commissioner Roger Goodell has approved some major changes to super strict celebration rules that inspired some serious backlash last season
After meeting with players for months regarding the issue, Goodell's new rules roll back several restrictions placed on traditional celebratory acts in a move that he describes as "more fun, fewer flags" by way of placing an "emphasis on spontaneous exuberance".
Gee, Rog. Thanks for giving back some of the fun that YOU TOOK AWAY IN THE FIRST PLACE. Classic Goodell, taking credit for making the game more fun again by re-allowing a handful of the celebrations that he made illegal. It's like if someone stole your bike for a year and then returned it with a rusty chain and missing a handle and expected a 'thank you'.
Nevertheless, the commissioner seems quite pleased with himself. After the news broke, he tweet the following joke to comedian Keegan Michael Key – who has a famous sketch character based on an unruly NFL player who thrusts his pelvis in celebratory defiance at the referees.
Don't get any ideas about pumps @KeeganMKey – they're still not OK under the new policy #FootballisFamily

— Roger Goodell (@nflcommish) May 23, 2017
The fictitious Hingle McCringleberry notoriously taunted the officials with his touchdown celebration, which real NFL players later started mimicking.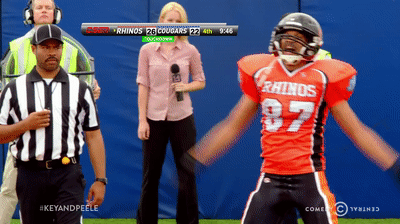 So yeah, Goodell and his "No Fun League" were the butt of the joke, and now he's trying to act like he's in on it rather than just apologizing for screwing it up. As a football fan, I'll take the win. But that doesn't mean he gets to weasel his way into our Key & Peele jokes. NOT UP IN HERE!!