In case you thought the NFL was getting boring at the quarterback position, please put your hands together and welcome back one of our favorites: former Raider JaMarcus Russell! Yep. According to Michael C. Wright at ESPN Chicago, Russell will come in for a tryout on Friday with the Chicago Bears, along with three other quarterbacks. Our man has been out of football since 2010, when he was released by the Raiders. He was then arrested in July of that year for possession of a controlled substance — the infamous Purple Drank incident — and faded from sight after that.
And that's tough to do when you've eclipsed 300 pounds, as Russell did. He was the first overall pick of the 2007 NFL Draft for the Raiders out of LSU, and held out for a contract worth $61 million — $32 million guaranteed. But he was only 7-18 as a starter with the Raiders over three seasons, frequently out of shape and seemingly unmotivated. See below: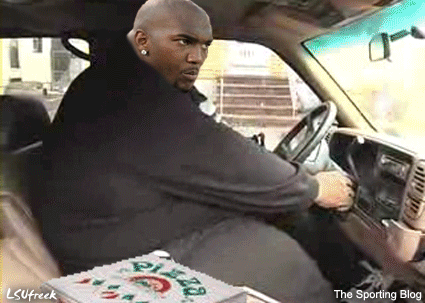 Hmm. No wonder taxes are so high in Calif.
ESPN:
Having shed a reported 50 pounds in recent months, Russell has drawn interest from multiple teams, including the Bears, who would like to obtain a current evaluation of the quarterback. Initially, the Bears weren't interested in taking a look at Russell, and one source believed nobody in the NFL would take the quarterback's comeback seriously until he shed a significant amount of weight.
ESPNChicago.com Bears blog

Now that Russell weighs a reported 265 pounds — his weight when the Raiders made him the No. 1 overall pick in 2007 — the Bears want to give the quarterback an opportunity.
The Bears have quarterbacks Jay Cutler, Josh McCown and Matt Blanchard on the roster.
A speedier, svelter Russell would be a welcome sight. But to remember the good old days, here's a gallery of JaMarcus Russell Photoshops gathered over the past six years. Enjoy.