You might think that the guy who sent white powder and a photo to Tim Tebow to the mayor of Jersey City is the craziest Tim Tebow fan out there — and you're probably right. But coming in a close second is Dewey Arnette, the former golf pro turned golf teacher who has been behind all the newspaper ads, airplane banners, billboards and other publicity stunts aimed at getting the Jacksonville Jaguars to sign Tebow.
His latest effort, this huge ad in the Florida Times-Union, promises that the stadium will be filled if the team signs Tebow and is signed "THE CITIZENS OF JACKSONVILLE." Via ESPN: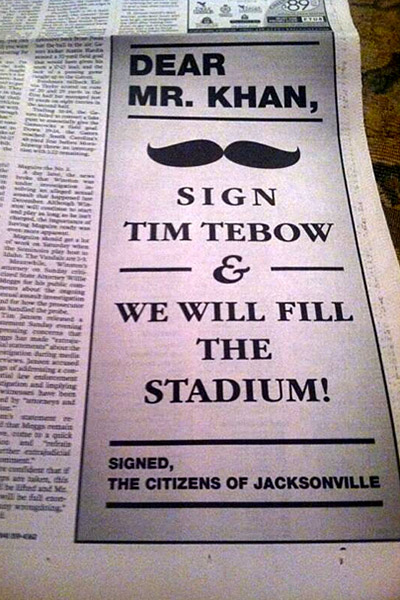 It was this ad that led to Arnette's unmasking, after ESPN's Darren Rovell began investigating who was shelling out so much money to promote signing a thrice-discarded quarterback.
"I don't really get behind causes and hold up signs," Arnette said. "But this was different."
Turns out, Arnette is absolutely the type to get behind causes and hold up signs:
In the past six weeks, Arnette and his son John have gauged the reaction after holding up "Tebow to Jax" signs in Jacksonville's San Marco Square and handing out Tebow T-shirts in the streets. The Arnettes also have bought ads on radio stations and billboards around town, and have paid to have Tebow phrases written on airplane banners that have flown over stadiums. Dewey Arnette even spent money to put "Tebow to Jacksonville" messages on place mats at the Metro Diner, a local hot spot. The owner of the diner, Arnette said, was so supportive, he gave Arnette a bigger ad than what he paid for.
Arnette said he doesn't want to seem "odd," but dropping thousands of dollars on advertisements for Tim "This is how he throws a football" Tebow is more than odd. Throw in the fact that Arnette, as of last year, commutes seven hours a day for work (and has done so for over 10 years), and yeah, man, you sound a little nuts.