Top 9 Fantasy Football Week 16 Sleepers with Top 10 Christmas Songs
A quick note for the sleepers this week. We opened up the DAFP (Defense Adjusted Fantasy Points) column for the final week, so you could get a taste of what you've been missing as part of the Xclusive Edge Package. It's a must-have tool for helping you with the tough start or sit questions each week.
You can also use these sleepers for DFS. Heck, head to DraftKings and sign up new with this link for $25 free!

Week 16 Sleepers: QB
Teddy Bridgewater, MIN – Have a feeling of déjà vu? Bridgewater finished 2014 with five straight games of 13.2 or more points, and while he could only do that in the final four this year, he looks good the past two weeks. He threw for 335 yards and a score against the tough Cardinals defense, and then followed it with 231 yards and four TDs against the Bears last week. Now, he faces the Giants at home, a team allowing 316.6 passing yards per game.
Week 16 Sleepers: RB
Charcandrick West, KC – I'm calling West a sleeper because owners are going to panic with Spencer Ware back to seeing actual time on the field this week. Breathe.
Even with Ware potentially vulturing goal line chances, West still has plenty of upside against the Browns defense. Not to mention, what other options could you honestly own that are better?
Cameron Artis-Payne, CAR – From my preseason breakdown:
CAP is terrific at attacking holes and evading defenders thanks to superb vision and cutback ability. He can lower the pads to break a tackle, but he'll never plow through tacklers. Artis-Payne lacks top-end speed and has ball security issues, but he can break off a big gain now and then, which helps his NFL outlook.
As mentioned with the waivers, Stewart could be out, and if so, CAP gets the enviable matchup with the Falcons.
Ameer Abdullah, DET – This is the Abdullah we knew was hiding in that uniform. If not for the fumbling issues, we might have seen more of it sooner or even more of it against the Saints. After all, Abdullah had 89 yards and a touchdown on 11 touches. The 49ers are awful against the run, which should give AA just as much upside even if he only has 10-12 touches again.
Week 16 Sleepers: WR
Kamar Aiken, BAL – The man has one non double-digit PPR game since Week 2. One. He had 26.8 last week, 18.8 in standard, and gets the Steelers this week. Will you just listen to me for once?
Allen Hurns, NO – Hurns disappointed last week, as did many players. Heck, find me a Fantasy owner that wasn't infuriated due to the unending list of player disappointments (or Danny Woodhead's on the bench or going off against you).
But your sadness won't last, as the Jaguars face the Saints… or did you not see how Golden Tate torched them on Monday night? With the play of Delvin Breaux, the second receiver has done more damage than the top option this year, so keep Hurns in your lineup.
Pierre Garcon, WSH – Only two teams allow more FPPG to receivers and only one has given up more touchdowns. Garcon isn't a must-start in any sense of the word, but if you have (had) Odell Beckham or A.J. Green can't get on the field – or does in a terrible matchup with A.J. McCarron at QB – Garcon carries upside.
Donte Moncrief, IND – The Dolphins secondary has been awful this year, and it doesn't matter that Andrew Luck isn't returning, Moncrief is a nice boom/bust receiver for championship week.
Week 16 Sleepers: TE
Kyle Rudolph, MIN – The Giants are right there with the Saints and Raiders for points allowed to tight ends. In fact, there are only three games where the Giants didn't allow a tight end to hit double-digit points in PPR scoring. Rudolph has three games of 12-plus PPR points over the last five weeks.
---
Also, a very Merry Christmas everybody! I've been listening to non-stop Christmas music for the past 10 Days (I do two weeks of it every year for a nice balance). My Top 10 Christmas songs? Sure, why not (I actually planned to do five but couldn't stop with that few)…
Honorable Mentions:
Christmas in Hollis, Run DMC – Always fun, but not something you really listen to numerous times or at all Christmas parties.
Last Christmas, Wham! – The best 80's Christmas song ever? No question. Best 80's song period? Might just be.
10. Christmas (Baby Please Come Home), Darlene Love/Maria Carey – I do prefer the new version over the classic this time, as Carey's voice is just too good.
9. A Holly Jolly Christmas, Burl Ives – I'm not sure why this song doesn't rank higher on most lists. Plus, it's from Rudolph the Red-nosed Reindeer. Speaking of, decent Christmas song itself (Rudolph) but just too short and repetitive (not that this one is lengthy or loaded with lyrics).
8. Have Yourself a Merry Little Christmas, Frank Sinatra – Can't have a Top 10 music list without Ol' Blue Eyes. I know most will complain it's this low, and I actually have the Best of Frank Sinatra on my iPhone, but I prefer more upbeat Christmas songs.
7. Rockin' Around the Christmas Tree, Brenda Lee – More upbeat, as seen here… I dare you to listen to this and not think of Home Alone. If you're too young to understand… get the hell off my lawn!
6. Winter Wonderland/Sleigh Ride, Dolly Parton – Gets points for being a double treat. You get two songs in one, making this a near four-minute enjoyment. One of the problems with Christmas songs is that most are two minutes or less.
5. It's the Most Wonderful Time of the Year, Andy Williams – Another song that is just enjoyable, and another one that more people should love. It's just a fun, feels-like-Christmas song that doesn't get old.
4. Santa Claus is Coming to Town, Jackson 5 – Does it get any better than kids with amazing voices singing a Christmas song?
3. Jingle Bell Rock, Bobby Helms – The guitar intro with jingle bells? Classic. I still don't know… is this technically a country Christmas song?
2. All I Want for Christmas is You, Mariah Carey – Lie to yourself all you want; you know it's terrific. It's telling when it's considered a Christmas classic and only came out 21 years ago.
1. The Christmas Song, Nat King Cole – The king of Christmas songs from the King himself. No, not "King" Elvis Presley, THE King. Did I say "king" enough yet?
There you have it. Feel free to trash my list, yell at me if I left your favorite out or just bah humbug over my trying to spread some Christmas cheer… I'll still be goofily bopping away to the music.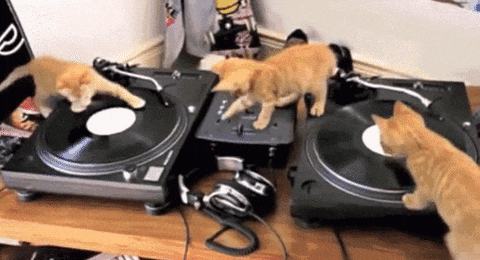 Image via Getty
Be the first to know
Want FREE Fantasy and Gaming Advice and Savings Delivered to your Inbox? Sign up for our Newsletter.