Updated Week 10 Rankings, Flex Ranks, DraftKings Picks, FanDuel Sleepers
There are few things more important that your word. It goes hand-in-hand with your integrity, as many will often see them as one in the same. Few things infuriate me more than people who go back on their word or lack integrity. In fact, if you ever want to "set me off" and have me go from cool, fun Jake (yes, he actually exists) to livid and rage-filled Jake, just attack my character or integrity.
No matter what aspect of life it is, your word tells others a lot about your character and will affect how people view you.
Just last week, I had a frustrating experience with a Craigslist-er exemplifying this very fact.
I recently moved, and in doing so sold and left my elliptical at the old place because it's a pain (and then some) to take apart and move. I found a nice used one that happened to be the exact brand and model I wanted and reached out to the owner. It was still available, but he was over two hours away and the price was already a bit higher than what I could spend. We communicated a couple times, and to keep things short, here's the summary:
- He told me it was available.
- I asked why he was selling it, mentioned my long drive to him, that I needed to rent/borrow a truck and suggested a lower price.
- He asked if he could call, which I told him he could.
- He explained he hurt his knee, it was just taking up space and he could use the money. He also suggested a bit higher price.
- I said I might be able to do that and would get back to him later that night. I texted him back later, saying I could pay the price asked and asked if Saturday would work to pick it up.
- He said sure thing and actually offered to meet me halfway. Then he texted, "Is this a definite because if not, I need to know so others could look." And I said, "Yes. Definitely. Thanks!"
Great, right?
Well, Wednesday came and the weather outlook for Saturday was 100 percent rain from 10 AM to 5 PM. That's not great for transporting an elliptical in a truck bed, so I texted and asked if Sunday would work instead.
His reply? "I had some other people come look at it and offer $___. If you want to pay that, it's yours."
WHAT?! What the heck did he mean?!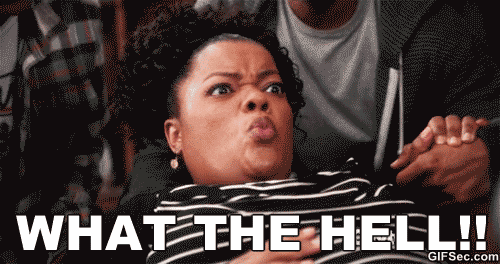 I texted back, "What do you mean? We have a deal for $___, I made arrangements for a truck and we are meeting on Saturday."
His reply was, "It didn't sound too definite, so I left the ad up." To which I snap-shotted the part where he asked if it was definite and I said, "Yes. Definitely." His next reply was, "I just have to do what's in my best interest. That's the business world."
You know what buddy? You're actually right. It is in your best interest and how the business world often works. That doesn't make it right though. We had a deal, he gave me his "word" that the offer was accepted and I'd pick it up on Saturday. Instead, he reneged when something better came along. Needless to say, I hope the person offering more screws him over and doesn't show up. You may call it bitter, but I just hate seeing poor actions rewarded.
Yet, we see this in Fantasy too. I'm not even talking about "handshake deals," where two owners talk through some trade options, and then one backs out a few hours later or moves on to another deal. It's still poor dealing, but owners do even worse at times.
I get Twitter questions every year (last week even) asking, "Another owner and I made a trade on Friday that doesn't process until Tuesday, but his player got hurt. Should I vote to veto it now?"
No! Two things here. First off, vetoes should never happen. They're one of the worst things about Fantasy. The only time a trade should be vetoed is if there is proof of collusion. That.is.it. We're adults and intelligent (well, mostly) Fantasy owners, and if we think we're improving our teams, who are you to judge? Most vetoes are bred in jealously of not being involved in the deal or getting the perceived value. Second, you gave your word (clicked accept or send) on a deal, and it's done. To go back on it is breaking your word, and vetoing it shows a lack of integrity.
This may sound preachy, and it's not as fun as hearing about my singleness, the Bassmobile and mom-isms I dealt with, but that doesn't make it less important. As you can probably tell, I'm still annoyed about this broken deal, but it makes me just as mad to see Fantasy owners screw each other over. Fantasy is supposed to be fun, and there is no fun in an owner reneging on a deal or having all of that trade work go to waste. On top of that, if you want to guarantee that you never get another deal done, go ahead and renege on a trade. You'll be branded – rightfully so – and no one will deal with you again.
---
Todd Gurley Trade Line
Todd Gurley!
Everyone else
In case you missed last week's piece, yea, there is no one in the league I'd trade Gurley for at this point. He's the best!
---
Week 10 Waiver Wire Pickups: QBs
Marcus Mariota, TEN – I expect Mariota's ownership to jump above 40 percent on its own this week, but I aim to boost it higher. Mariota isn't an every-week starter, but he's a great matchup play, and those needing a replacement in Week 11 have a nice once coming against the Jaguars. The Panthers matchup isn't appealing, but that's what should help many owners have a better shot at a quarterback coming off a four-touchdown game. Mariota has four double-digit games, and with the Jags (twice), Patriots and Texans still on the schedule, he should double that number.
Week 10 Waiver Wire Pickups: RBs
Karlos Williams, BUF – I'd make Williams my top waiver option if I need a running back this week. With the short week, LeSean McCoy could struggle to play Thursday night. If McCoy is out, Williams would be a high-end RB2, even against the tough Jets defense.
James Starks, GB – If you can figure out what's wrong with Eddie Lacy, please, let me know.
You don't just have your talent disappear without something else involved, and to be fair, now it sounds as if he tweaked his groin. Either way, Starks is at least a flex option during the bye weeks even if Lacy suits up.
Brandon Bolden and James White, NE – While I'd rather stay away, you have to take a flier on one of them just in case one or the other can be even 80 percent of what Dion Lewis was. The first bet is Bolden, but you know that means Bill Belichick will just go with White (or re-sign Travaris Cadet and play him).
Kendall Gaskins, SF Shaun Draughn, SF – Last week I said, "Gaskins, because someone has to carry the ball." Well, we got more Draughn than Gaskins, and Draughn was decent. Gaskins was less inspiring, and Pierre Thomas only had four carries. Carlos Hyde could be back after the bye or out for the season. If you're desperate for running backs (who isn't now?) stash Draughn… just in case.
Week 10 Waiver Wire Pickups: WRs
Davante Adams, GB – Remember all of that excitement you had for Adams in the preseason? It's back. Adams has already supplanted James Jones as the No. 2 in Green Bay and did quite well in a tough matchup with the Panthers and Josh Norman. Don't be surprised to see Adams as a WR2 the rest of the way.
Kamar Aiken, BAL – Just a friendly reminder that Aiken is the top option for the Ravens now. Don't overlook Aiken because he was on a bye.
Nate Washington, HOU – Another reminder that Washington has plenty of big-play potential, the Texans pass plenty and he too was on a bye.
Dontrelle Inman, SD – Who's left? Inman is the next man up in San Diego, and you might be able to sneak him through waivers with a lesser bid or lower waiver spot thanks to the Chargers being on bye.
Dorial Green-Beckham, TEN – The snap count still needs to improve move, but DGB is very talented and showed why he deserves more looks in Tennessee.
Wes Welker, STL – Because everyone is going to ask, I am not rushing out to add Welker anywhere. There is a reason he wasn't signed in the offseason or to this point. Plus, Welker is a timing route guy, and why would you think that Nick Foles could make that work?
Week 10 Waiver Wire Pickups: TEs
Crockett Gillmore, BAL – Theme here? Gillmore isn't an every-week play, but those with tight ends on byes this week or next can turn to him in need.
Week 10 team byes: 49ers, Chargers, Colts, Falcons
---
As a reminder, waiver wire players and sleepers are good for DFS too. If you want a free ticket into the Millionaire Maker and haven't signed up yet, just use these links for DraftKings or FanDuel and enjoy!
Week 10 Sleepers: QB
Blake Bortles, JAX – I guess people still don't want to believe.
Bortles ownership dropped last week, but those who did so because of the bye and then Jets matchup will be sorry in Week 10. After all, Bortles threw for 381 yards and two touchdowns against the Jets, now has four games of 20-plus points and is averaging 287.1 yards, 2.3 TDs and 20.3 FPs per game since Week 1. The Ravens may be coming off a bye, but that doesn't change the fact that they give up 21.9 FPPG to quarterbacks with 16 TDs allowed and just three INTs.
Week 10 Sleepers: RB
Doug Martin, TB – Martin's season is looking eerily similar to his rookie campaign isn't it? He has three great games and the rest have been single-digit performances. A matchup with the Cowboys will help cures what ails you in the running game. They've allowed 24.0 FPPG to running backs with 820 yards and eight TDs rushing, plus another 499 and two TDs receiving. Heck, Charles Sims is a nice deep play again this week (was here last week).
Ryan Mathews, PHI – Did you realize Mathews is RB21 on the season? In fact, Mathews has four games with 12-plus Fantasy points and five touchdowns. The Eagles are home, and the Dolphins have allowed 11 touchdowns in eight games. Mathews has also nine rushes in the red zone, converting three for touchdowns. In comparison, DeMarco Murray has 18 for four TDs.
Week 10 Sleepers: WR
Jordan Matthews, PHI – A weird thing happened after the Eagles-Cowboys game. I saw a flurry of Twitter questions about Matthews: if he was back, if people should trade for him, if he should be in lineups. I'm going to say the same thing I've been saying for weeks. Matthews is a must-own, better days were/are ahead, he's still a WR2 and preseason lofty expectations clouded the fact he's been decent. The Dolphins defense has been soft all year, and Matthews needs to be in lineups again in Week 10.
Rishard Matthews, MIA – On the other side, Rishard Matthews has been a reliable deeper option at receiver. There is a special place in the Fantasy hype world for Devante Parker and Christine Michael. All the hype in the world can't save those two. Parker isn't threatening Matthews (not healthy now and won't when he's back) and the Eagles are equally weak against the pass.
Rueben Randle, NYG – Randle hasn't done as much as we'd like with his opportunity and the Giants offense. After all, Eli Manning already has 2,339 yards and 19 TDs, but Randle only has 424 yards and three touchdowns so far. Nevertheless, the Patriots are on tap, and the offensive strength of the Giants is the weakness of the Patriots defense. Randle is a good bet to score in back-to-back weeks.
Week 10 Sleepers: TE
Kyle Rudolph, MIN – So much for that breakout season… again… and again… and, yea… we don't want to hear it anymore.
I'm not saying a matchup with the Raiders automatically means Rudy will be good for once, but those Antonio Gates owners can take a chance, as options are likely thin right now.
---
Week 10 Blind Spot Players
In case you're new to this, the Fantasy Blind Spot refers to players that 1) have been performing well but haven't had a breakout game or big enough numbers to get Fantasy players talking, and/or 2) are in a price range of other more popular option, and/or 3) have frustrated with disappointing performances but have a great matchup to finally break through. These are the players you want to target in tournaments, such as Millionaire Makers. You want a contrarian lineup, and there are few better ways to build one than by grabbing some Fantasy Blind Spot players.
Free DraftKings Millionaire Maker Ticket for New Players
DraftKings Week 10 Lineup Sleepers: QBs
Blake Bortles ($5,600) – I know I talked about him as a sleeper for seasonal already, but Bortles deserved the spotlight. Bortles doesn't even show up in the initial QB list, as Russell Wilson at $5,900 is the last you see before scrolling. Once you do, Derek Carr is there at $5,800 and intriguing with other options such as Brian Hoyer and his garbage time ways, Matthew Stafford coming off a bye and coaching adjustments, plus the highly-popular Kirk Cousins facing the Saints. Bortles is the only one you want, as a matchup with the Ravens makes him a must-own.
DraftKings Week 10 Lineup Sleepers: RBs
C.J. Anderson, DEN ($3,800) – No, I'm not trying to recoup some of my dignity for the preseason hype I gave CJA. That ship has sailed… and been riddled with cannonballs… and sits at the bottom of the ocean. However, Ronnie Hillman is banged up, and Anderson may have re-passed him on the depth chart. This is a GPP play only, but at $3,800, you only really need a touchdown for CJA to return value.
DraftKings Week 10 Lineup Sleepers: WRs
Randall Cobb, GB ($6,700) – Why are people hating on Cobb still? Yes, the offense has struggled quite a bit, but the Packers made adjustments during the bye and look at the success it brought last week. Few teams had tougher first halves, and Cobb is still a terrific talent. In addition, Cobb should see Quandre Diggs most of the time, and he will roast him! This price is a steal for a receiver that should easily put up 100 yards and a score.
Travis Benjamin, CLE ($5,200) – It's been awhile (okay, I now have Staind in my head)
... since Benjamin has put up good numbers – Week 6 in fact. To be fair, the trio of the Rams, Cardinals and Bengals is extremely tough. Prior to the last three games, Benjamin had double digits each week with scores of 23.7 and 35.5 included. The Steelers run defense is quite good but the pass defense stinks. If the Browns hope to contend, they will pass more than usual.
DraftKings Week 10 Lineup Sleepers: TEs
Gary Barnidge, CLE ($4,800) – And that makes Barnidge a great play as well. People are still extremely reluctant to use Barnidge, despite the fact that he averaged 22.03 points over the six games before last week. As mentioned, the way to attack the Steelers is through the air, and Josh McCown back at quarterback is more reason than any to trust Barnidge again.
Free FanDuel Millionaire Maker Ticket for New Players
FanDuel Week 10 Lineup Sleepers: QBs
Josh McCown, CLE ($6,300) – All that love I gave Benjamin and Barnidge, well, the passes have to get to them. McCown averaged 24.4 FPPG in the four games outside of the Broncos and Rams. You can't hold those two games against him too much, as they've dominated nearly everyone. The Steelers are tied for the sixth most passing touchdowns allowed (16) and give McCown plenty of upside.
FanDuel Week 10 Lineup Sleepers: RBs
Charcandrick West, KC ($6,400) – West is deep in the blind spot because everyone sees the Broncos and runs for the hills. Hold on, don't run off just yet. The Broncos are actually around the middle of the pack in run defense, have let six running backs hit double digits (Marcel Reece and Ameer Abdullah on that list) and have allowed nine running back TDs (three receiving). As seen with Reece and Abdullah, the pass-catching backs can hurt the Broncos, as Theo Riddick did some damage too in his showing. West still had plenty of upside at a great price, despite the perception that you want nothing to do with him.
Matt Jones, WSH ($5,600) – Speaking of pass-catching running backs, the Redskins backfield is a headache to put it mildly.
But, it appears Jones has a leg up on the rest, and the Saints struggle against pass-catching running backs. They've allowed 54 receptions for 483 yards and three TDs already with David Johnson, Devonta Freeman and Shane Vereen posting big receiving numbers against them.
FanDuel Week 10 Lineup Sleepers: WRs
Brandon LaFell, NE ($6,200) – I'm fairly certain you know the Giants pass defense is awful, right? They have allowed four receivers to top 100 yards already. Often, the teammates of those leaders had good or even big days too: Leonard Hankerson 6/77/1 with Julio Jones, Torrey Smith 2/42/0 with Anquan Boldin, Brandin Cooks 6/88/2 and Willie Snead 7/76/2 with Marques Colston and Adam Humphries 5/55/0 with Mike Evans. Tom Brady is going to go ape nuts on the Giants, especially with the added revenge factor thrown in.
Tavon Austin, STL ($6,000) – Austin is just under LaFell, $100 behind John Brown and the same price as DeSean Jackson and Rishard Matthews. Even Michael Floyd, Devante Adams, Travis Benjamin, etc. are cheaper. Austin has scored at least 8.4 points in each of his last five games with two games in the 20's (23.9 and 26.6). The upside is clear with the Bears matchup, and at $6,000, Austin is well worth the price.
FanDuel Week 10 Lineup Sleepers: TEs
Gary Barnidge, CLE ($6,100) – See above, Josh McCown, Travis Benjamin, etc. (And now see the Browns lay a fat, stinky goose egg.)
---
Week 10 Rankings | Week 10 Flex Rankings
---
Photo Credit: AIJ1964
Be the first to know
Want FREE Fantasy and Betting Advice and Savings Delivered to your Inbox? Sign up for our Newsletter.