Goal-line tech is a corrective measure FIFA implemented in the 2014 World Cup to compensate for the disproportionate impact referee error has on a soccer game. (Golf clap.) In video games, however, errors don't really exist — unless they're made to exist, like they do in Madden — so reviewing a ball's path after a close call with the goal-line isn't at all necessary…even if this happens.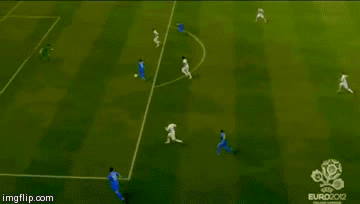 EA's just trying to convince the skeptics out there who refuse to believe the game correctly "calls it as it sees it," so to speak. Ya know, so, crazy people.
[GameSpot] "Goal Decision System will leave no question as to whether or not the ball crossed the line," a press release states. "Replay animations will emulate TV broadcasts playing after close calls and goal line clearances."
Hey, it's still useful as a gloating tool, with which you can force your opponent to watch an excruciatingly slow replay of the exact moment your shot crossed the invisible plane behind the keeper. Hooray!
Speaking of cool features, the newest iteration of the world's greatest soccer video game (due out 9/25) will include all 20 first division English stadiums (they've been slowly adding new arenas since the game entered the 21st century). That means Queens Park Rangers, Leicester, and oddly enough, Aston Villa, will now be included. Villa fans, to you we say congratulations — it's about f-ing time they threw Villa Park in there.
EA released an EPL-specific promo, which you can view below, or you can check out all the stadiums in the slideshow at the bottom of the page.