Travelers Championship
Defending Champion: Marc Leishman
Who doesn't love the US Open? Especially when it looks like the conditions…
… have us believing the players would do more scoring than Burt Reynolds at a sexy-times 70s coke party. But that wasn't the case. Turns out, regardless of how soft the course played, no one could putt on these friggin greens. And that made Lindsay Vonn a sad panda.
But while she was dreading the next short miss from her man, Rory was just getting straight up pissed from his complete lack of depth perception.
That, or he was using visuals to show his caddie his next falcate putt. Seriously, some of these greens had more break than a Barry Zito curve circa 2004, faster too. The entire weekend wasn't full of follies, though. Shawn Stefani decided putting wasn't for him and that jarring it from the tee was just much easier.
And Stefani proves that just because you're 20 strokes north of par, doesn't mean you can't get FIRED UP!
Although that my high-five may only be second to Tiger and Stevie's Masters slap on the awkward scale, it's still better than getting left hanging.
It wasn't a total loss for Phil though, even though he blew it (x6), he, and his negative-six inch vertical, did make a case for the PGA to televise its combine. It would surely generate more original laughs than an entire season of The Big Bang Theory.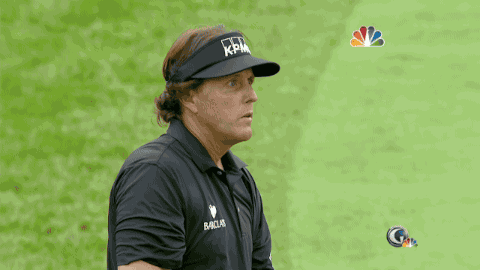 And it almost seems fitting in a weekend with more ups and downs than a sinus curve, that the winner's initial reaction was to act like he was just caught on Candid Camera.
With a wife that hot, why is your first move a bro hug Justin? You gotta lock that down, come on!
In conclusion, no one cares about the Travelers Championship. Especially Justin Rose. How much does he regret committing to this event? No chance he plays the weekend. He already has his private jet fueled up and running on the tarmac for party time back in the old country. Think Ernie Els at last year's Canadian Open. There's a 108-percent chance he's mailing it in.
PICKS
Jason Dufner – It's crazy to think that Dufner almost staged one of the most gigantic Sunday comebacks in Major history, if it weren't for an untimely OB off the tee on 15, resulting in a triple bogey that is. Meh, live and learn I suppose. Still, Dufner's now made seven consecutive cuts and the T4 at Merion was his first Top 10 of the season. Meaning, he's playing his best golf since last May at the moment.
Bubba Watson – His length intimidates TPC River Highlands… among other things. And if it doesn't, it definitely should. Bubba claimed the novelty check here in 2011 and picked up a silver medal last year. He'll be in the mix.
Charlie Hoffman – The man who should be the defending champion. Nerves must have got to Hoffman trying to close things out, going bogey/bogey on 17 and 18, handing the title to Marc Leishman. But here we are, a year later, and Hoffman has significantly improved his game on and around the green and been a frequent leaderboard lurker all season; with his experience at the course and recent quality play, there's no reason he shouldn't be a factor.
Graham Delaet – Who's Graham Delaet? Well, he's Canadian – LIKE ME! – would be something in one of those long drive contests and has been absolutely GIIIIIRRRRRRRREAT in 2013. In fact, no other player on Tour hits a higher percent of greens in regulation than DeLaet – 72%. And since Bubba has shown us that being long off the tee is the single best attribute you can have in Cromwell, Delaet should at least do plenty of scoring.
Rickie Fowler – Rickie's still searching for his second career win and in a weak field, fresh off a Top 10 at the year's toughest tournament, this could be the week.
John Rollins – Rollins is a sneaky play, but he really shouldn't be. He enters play with a T4 and T6 in his last two turns, on top of a great recent history at the Travelers. He was one step away from the top of the podium in 2011 and followed that up with a T4 on this site last year. He's a must have this week, but he'll go wildly underrostered. Why? Probably something to do with having an ultra generic name like John Rollins and the fact that he may be the most plain looking person on the planet. He could use an injection of pizzazz, maybe a win this week would lend him some swagger.
Hunter Mahan – Let's see, Hunter's coming in off a personally disappointing, but very successful US Open, leading the field in putting and finishing with a T4. So that's good. Even better? He's made eight of 11 cuts at TPC River Highlands including a win, two seconds and a fourth.
Freddie Jacobson – I'm taking Freddie until he wins or I run out of eligibility.
The new RotoExperts Daily Clubhouse has all you need to win big every night in Daily Fantasy Baseball – expert picks, tools to identify hot and bargain players, plus official lineups and podcasts/radio shows just prior to game time! Don't set your lineups without visiting the Daily Clubhouse first. Then set your winning rosters on DraftKings.
Photo via