Mexico and Croatia are locked in an insane match to decide who will take second place in Group A. There are been a ton of close calls, near goals and fouls as both teams fight to stay in Brazil. As of this writing, however, Mexico has scored three goals to secure its place in the next round.
While we'd love to give the game ball to Rafael Márquez, who broke the 0-0 stalemate, or Andrés Guardado, who sealed it, we need to recognize how important Mexican coach Miguel Herrera is to us. His reactions alone are worth the price of admission to a World Cup game, and his excitement and passion undoubtedly powered his team to this win (along with the goals and stuff).
He got things going with some fist-pumping:
Graduated to tackling, motorboating after the second goal:
Let's see that one again:
Finally, a jump-fist pump combo:
Just minutes before, coach lost his mind when refs missed an obvious handball on Croatia in the box. Then Mexico scored three goals and all was well.
Best of all is this old GIF from when Herrera was managing Club America: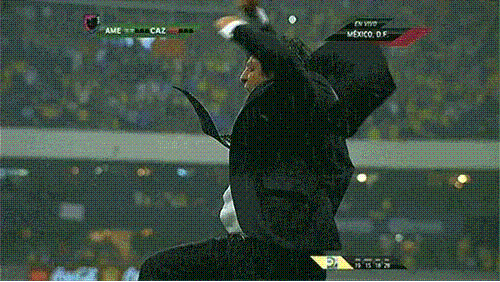 Herrera and his club will take on Frieza the Netherlands in the next round.