Week 9 In Fantasy, As Told Through GIFs
Throughout the season, we'll be recapping the week that was in fantasy football through GIFs. For the previous installment, click here.
Hello again, world.
We apologize for our absence last week. The GIFerator fell into some water that sloshed into our offices, and it took a while to dry.
Things are (more or less) back to normal around here, but the whole experience definitely shook a few of us up, and so even though we're back in the office, once again hunched over our laptops, there's something almost animal about how we're all feeling at the moment. You'll see what we mean. 
Let us begin with Sean's Icarian fall from grace. Everybody knows that the guy let the computer do his drafting for him, and that he beat the tar out of us for the first quarter-and-change of this season. But two weeks ago, Sean made his first true mistake of the year by deciding to trade with snake-bitten Max. It was Sean's first gamble of the season, his first real attempt to think outside the box, and this pretty much sums up how it's gone for him so far:
Speaking of snake-bitten, Max may be on the verge of becoming Someone Who Has Stopped Caring. He's not all the way there (dude claimed Denver's opportunistic, sack-happy defense on waivers during the week), but there are signs (…he forgot to activate them). Every league has some of these quitters, and the sight of them moving from week to week does look a bit like this: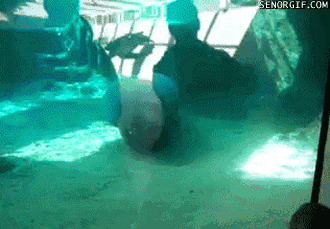 Whatever. Those guys are losers! Who cares about the losers? Let's talk about the people who won, goddammit. Like Evan. Jordan went into this Sunday all like, "Unnngh, I have Peyton Manning and Arian Foster, I live in an impregnable fortress of smashitude! Come at me, bro!"
Then Evan, who's been waiting all year for Doug Martin to have a game like this, was just:
Speaking of winners, let's talk about Glenn. The guy has definitely assumed Alpha Male status in the Fontasie. Keith was his latest victim, and even though the scoring margin wasn't crazy, the outcome of this was never in doubt. In fact, the matchup didn't so much look like a contest as it looked like this: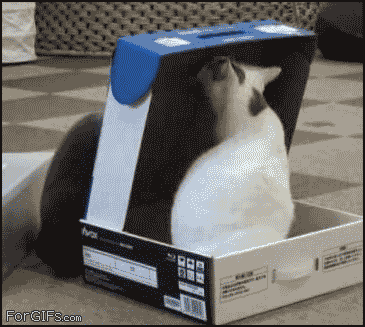 The rest of our league is up in the air right now (a Philly/NOLA Monday Night game will do that), but that doesn't mean we can't make fun of them! All of us went into this Sunday just wanting to escape from the past week. What Jenn and Dylan got instead was very different: a whopping 3.30 points TOTAL from Jenn's Pro Bowl wide receivers, and Carson Palmer deciding, for the first time all season, to play like a man…while he was on Dylan's bench. Both responded like so:
Hank, meanwhile, just needs a halfway decent performance from Jimmy Graham to win his fourth straight matchup and put himself on the inside track toward the playoffs. Things have been rolling for him, but, again, we're all in kind of a fragile place right now, and so he's maybe less than enthusiastic about the actual game:
How will we cope with tonight's (and next Sunday's!) drama? There's no way to know. Tune in next week to find out!
Be the first to know
Want FREE Fantasy and Gaming Advice and Savings Delivered to your Inbox? Sign up for our Newsletter.