The Five Best Examples Of Animals Hitching A Ride On Other Animals
We sometimes forget that seals are mammals, and during long swims to find food, it's fortunate for them that there are often many rocks on which they can rest and ... hey wait. Oh shit.
This video was taken recently during a whale watching trip off the coast of Baja California. It's the only tour company that guarantees at least one seal riding a whale, or your money back.
It's my favorite part of being outdoors: observing animals riding other animals. I call it nature's Uber. Best examples:
1. Baby weasel rides woodpecker.
Martin Le-May took this picture at Hornchurch Country Park in east London. Soon to be an animated feature, with Nathan Lane as the voice of the weasel.
2. Raccoon rides alligator.
Damn it, forgot my briefcase.
3. Another seal riding another whale.
This one in Australia. Judges: 8.0, 8.3, 7.9, 8.0, 8.5.
4. Chicken rides tortoise.
"Late again, eh Jenkins?"
(We have no idea how this is not ranked higher).
5. Lemurs ride goat.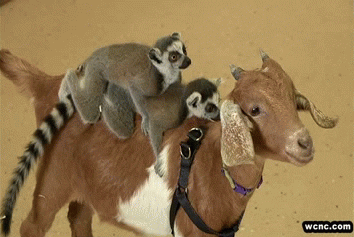 I don't even know where to start here.