Chicks Love the Underdog…
[caption id="" align="alignright" width="381" caption="<em>Alex Barlow and the boys celebrate the upset over #1 Indiana</em>"]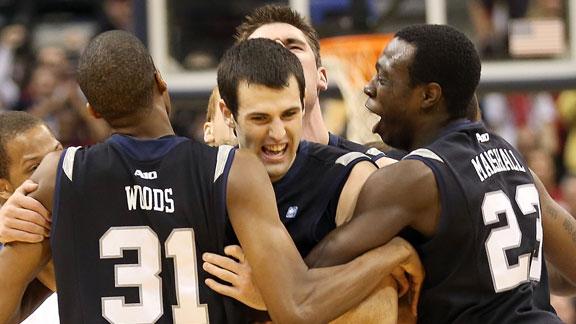 [/caption]
The last time we saw the No. 1-ranked Hoosiers in nationally televised game they were pounding North Carolina, looking every bit the national title favorite they were predicted to be and talking quite a bit of trash along the way. Coming into Saturday the Butler Bulldogs were 7-2 and looking up at the teams listed in the AP Top 25. After yesterday's 88-86 overtime win against Indiana however, you can be certain that Butler will be represented as one of the upper echelon teams in the country.
This win was no fluke by the way, Butler now boasts victories over North Carolina, Marquette and Indiana. And it's not like Butler has come out of nowhere. Coach Brad Stevens has led Butler to two national title games in the past three years. On Saturday however, the Bulldogs provided fans probably their greatest regular-season thrill in the history of the school, and it didn't come as one might expect. Butler accomplished Saturday's feat with Roosevelt Jones and Andrew Smith on the bench throughout overtime and with Erik Fromm joining them for part of the extra quarter. As a result the win came in storybook fashion with the game-winning overtime shot coming from a Alex Barlow, a freshman walk-on role player who scored two points all of last season and just 12 in the Bulldogs' first nine games this season.
This wasn't basketball's version of Rudy. Barlow is a useful player to have on the Butler roster and his game contribution was no token piece of playing time. Barlow's drive into the lane and short turn around jumper with 2.4 seconds left to go in OT (a floater that bounced off the backboard and around the rim not once, not two, not three, but four times!!) wasn't the prettiest thing you'll ever see on a basketball court, but the shot dropped and Barlow now has a memory of a lifetime that none of us could possibly dream of. And Barlow's memories aren't going to end there...
Alex Barlow will unquestionably be the most popular kid on the Butler campus with the young women this weekend... Have fun Alex, just make sure those memories don't tun into obligations...