NBA
We Must Have Been Very Bad This Year, Because Yesterday's NBA Christmas Games Were A Bummer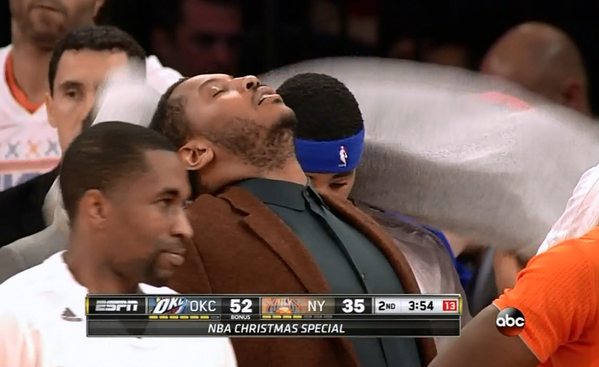 Yesterday was supposed to be a huge day on the NBA calendar. Christmas Day games are created with marquee matchups in mind — great teams against great teams, superstars against superstars, possible playoff and Finals previews, etc. Instead, NBA fans found the equivalent of a big bag of coal sitting inside of their television, thanks to uninspired performances, injuries and poor officiating.
How bad were these games? Let me count the ways:
1. Three of the five games were missing at least one All-Star due to injury, and a fourth game ended up adding to that total via ejection.
The Bulls-Nets game in particular lacked the kind of star power we expected to see coming into the season. Derrick Rose was out for the Bulls, but luckily for Chicago, they went up against the injury-plagued-and-overall-shitty Brooklyn Nets — missing Brook Lopez and any kind of emotion or fight. Thunder-Knicks was derailed by Carmelo Anthony's sprained ankle (the Thunder cruised in that one). Heat-Lakers was missing a certain somebody… oh, right, Kobe Bryant. And in the day's finale, Blake Griffin was thrown out early in the fourth quarter of a tight game for what amounted to a bunch of nothing with Andrew Bogut.
2. The games were mostly blowouts.
The Bulls smacked the Nets by 17, in Brooklyn. The Thunder smacked the Knicks by 29, in Manhattan. The Rockets beat the Spurs by 13, and never trailed after posting a 40-point first quarter. The Heat were tested by the Lakers, but the outcome was never in real doubt. Only Warriors-Clippers gave us any real drama, and most of the East Coast was asleep by then.
3. Only two of these games really meant anything.
Every game counts, but some count more than others. Bulls-Nets was a matchup between two injury plagued, underperforming Eastern squads that will go no further than the second round of the playoffs. The Knicks stink. Heat-Lakers is no longer the Finals matchup we want or expect to see each year. Only the two games between Western Conference powers gave us a glimpse of what could come in this postseason.
4. The refs screwed up the only good game.
Anybody who loved/was alive for the NBA in the 1990s is thrilled to see the kind of rivalry blossoming between the Clippers and Warriors. They're good! They hustle! They want to beat the shit out of each other! Okay now let's kick one of the game's best players off the court for getting a little chippy, sound good?
"That's not right." Indeed.
Here's to hoping you all act a little kinder next year, maybe go volunteer at a few soup kitchens, because we were obviously a bunch of terrible people who did not deserve good basketball in 2013. At least LeBron and D-Wade gave us this.
Screengrab via @jose3030